Al Rehab Khaliji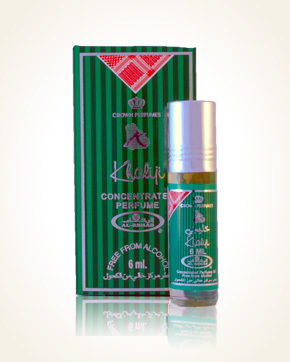 Al Rehab Khaliji
Concentrated Perfume Oil 6 ml
In Stock
Concentrated Perfume Oil Sample 0.5 ml
In Stock
Description
The delicious onset of citrus, dominated by sweet juicy oranges, complemented by fresh lemons and a slightly bitter echo of bergamot, will enchant you with a pleasant fruit wave with the first drop of Khaliji.
The smoothly soft woods are presented by sandalwood in combination with a few touches of orientally seductive spice, to which it adds its fluffy tufts of sparkling musk and literally brings a boost to hot days thanks to lemon grass, which ends the scent with its chords.
Pocket package of oriental perfume, the great advantage of which is the small size (6 ml of perfume) so that it fits into even the smallest purse or pocket. In addition, the perfume is very easy to apply using a ball in the bottle cap. So you can always have your favorite scent with you.

Customer Reviews (1)
Hello! I got the perfume. The sweet scent of Khaliji takes me back to middle school days in 2006! I love this perfume, thanks once again. And your attached letter! what a kind gesture from you. And be sure that I will buy more (16.06.2020 - Henry, Estonia)

Have you tried one of our perfumes?
Let us know
how you like it!
You might also like