Khadlaj Royal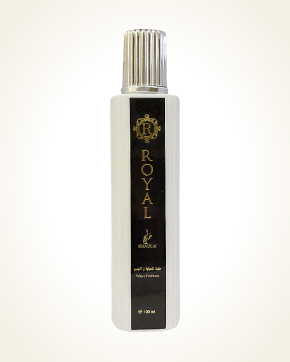 Khadlaj Royal
Water Perfume 100 ml
In Stock
Water Perfume Sample 1 ml
In Stock
Description
The floral flood directly shows a cascade of changing colors of honey-sweet freesias, which are delicately complemented by the softness of roses and the dignified beauty of large-flowered white lilies.
Into this floral composition, from a distance and just behind the curtain, the frosted glitter of lilies of the valley is heard for a moment, accompanied by a fruity note of juicy, grape wine and spicy black currant.
A whipped, delicious vanilla cream melts into the floral clouds, in which the chords of majestic, velvet-wrapped amber sway with a few touches of sensual musk, which airs and fluffs the fragrance at the end.
Water Perfume is an alcohol-free fragrance in the form of a spray. The oil dissolved in alcohol-free water leaves a delicate, fragrant layer on the skin. It is ideal not only for hot weather, when it perfumes your skin and provides it with hydration for a very long time. Shake well before application to combine ingredients. Apply Water Perfume to the skin or hair.

You might also like