Khadlaj Nasma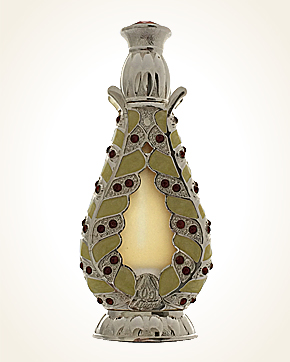 Khadlaj Nasma
Concentrated Perfume Oil 18 ml
In Stock
Concentrated Perfume Oil Sample 0.5 ml
In Stock
Description
A silk caress of white lilies, creamy ylang - ylang and gourmet vanilla begins with a Nasma perfume walk.
Vanilla chords are tenderly interwoven with sweet tangerine, delicious strawberries and apricot puree with a sprig of mint for a gentle refreshment.
Several tones of precious woods are used to illustrate the slightly sounding fragrance concert, which slowly turns into a bed with herbal-spiced patchouli.

Customer Reviews (4)
Hello dear ladies from the fragrant kingdom. Thank you very much for the prompt processing of my order and Mrs. Jana for the handwritten message. The anticipated scent of Khadiya Nasma turned out to be something more than I suspected. Oh my God!!!!! This scent got me on the first scent of a beautiful bottle. And what if I had the chance to put it on my body? For the first seconds, she looks like a cold touch. But then it's an explosion !!! A sea of overripe apricots warmed by the sun, a little mandarin and I don't know why, but I feel a little overflowed with a creamy cream (which softens the sharpness of apricots) - wow !!! The more my body has degrees, the more this fragrance is released (with my other fragrances, I have not yet noticed it in such an amount). I puff in the sweetness of the fruit and I can not get enough !!! I love the enjoyment. Beauty, where have you been hiding from me now? (2/19/2019 - Rena K.)

Khadlaj Nasma beautiful juicy aroma, sweet strawberries, apricots, refreshing tangerines sprinkled with a pinch of mint laid in the arms of lilies and spiced with gourmet vanilla, all mixed into a beautiful bottle. I hope it will continue to sell nevydrží :) (Feb 11, 2018 - Miloslava P.)

KHADLAJ NASMA-fine perfume with a scent of tangerines and strawberries with a drop of delicate, fresh mint and finally added rare woods a magnificent scent of ... Tulip bottle reminiscent (10.2.2018 - Veronika H.)

KHADLAJ NASMA - I have to have it !!! Although they do not match the composition, it reminds me of my beloved Transparent! Or something in it ... I can feel the gentle bitterness of the grapefruits, the bitterness of the apple that made Transparfnt so seductive. This wonderful perfume I want to stand for summer! (2/8/2018 - Lenka S.)

Have you tried one of our perfumes?
Let us know
how you like it!
You might also like