Swiss Arabian Kashkha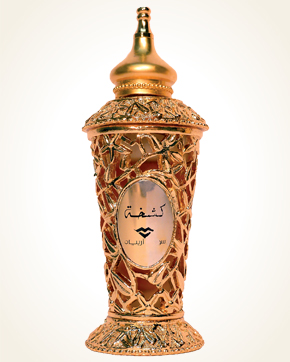 Swiss Arabian Kashkha
Concentrated Perfume Oil 20 ml
In Stock
Concentrated Perfume Oil Sample 0.5 ml
In Stock
Description
Smell and change your view of the smell of the Orient, which, shrouded in mystery, opens the door, so far closed.
Imagine the haze blended with the image of the Princess Palace - flowers, fruits, hookah, bakhoor burning, ubiquitous luxury and refinement. All this is incorporated into this oriental delicacy.
The perfume will appeal to the first gust of bergamot with apple and cinnamon, the smell is carried like an Arabian dancer, who gets the attention of her surroundings by the first step - with a hand movement.
The fragrance hiding in a flask as if lined with gold lace gets you through its mysterious depth, the decomposing heat of the spices of the Orient, cardamom and saffron along with oud very finely set, undisturbing, or on the other hand emphasizing the beauty of oriental fragrance.
Kashkha is a perfume that can be worn throughout the year, its knees underwent its beauty, rose with sandalwood and oud is a wonderful combination. By adding a soft ambergris, slightly warm wood cedar and the sensuality of the musk, the fragrance becomes very irritatingly attractive. Try the fragrance of Arabian princesses and ordinary perfumes from our market will look like several times infused tea. The intensity and strength of the scent of the Orient is engaging and very addictive.

Customer Reviews (12)
Hello, over time I will rate Kashkhu Swiss Arabian EDP and CPO… It's absolutely beautiful !!! They are both perfect. CPO is more earthy than EDP. Flowers, fruits, oudík, clogs in great interplay. Just really like a princess, but forget about the delicate beauty in pink veils. This princess is in a black dress embroidered with gold thread and gems. It is a tender scent but at the same time dominant, for me it is not fresh but rather mildly irritating (provocative). That's how I perceive Kashkh. And it is definitely true that she is addictive :-). Otherwise, you are still great browsing the Anabis website and looking for what kind of beauty I will still buy. And it's so amazing that I still can't choose. I would like everyone :-). I used to buy Chanel COCO Noir and I'm still looking for a similar scent according to the composition, but also with the "something" I missed in it ;-). Maybe I'll find it. Thank you for being. You have another regular customer in me. Health (27.05.2022 - Tereza U.)

Kashkha CPO Melting resin tears, in the copper reflections of which a mysterious heat has come to life ... A scent that slowly dissolves on the skin and I feel a perfect harmony between everything that hides it. It smells of saffron and cinnamon dusted apple. I am surrounded by a shadow of oud, which I find extremely tempting. And I imagine the sweet amber here as a fine gold-colored dust that softly covers everything. The scent is noble and mysterious. (13/04/2021 - Dalia)

I ignored Kashkh for quite a long time as a favorite who has her own circle of fans (and certainly fans) and she doesn't need another admiring voice… until I read a scathing criticism on one perfume blog comparing this perfume to disinfection. At that moment, my curiosity echoed, because if I hate something in the scents, it's the tone a la Savo. I don't know what the lady in question sniffed for, but Kashkha certainly doesn't deserve such a comparison. There is a subtle herbal tone in it, but it is nothing that rolls up the nasal mucosa or brings tears to the eyes. Herbs live here in peace with flowers, of which I perceive roses and iris powder the most. But what got me Kashkha is the tone of acacia honey, which persists in the scent all the time. The composition is supported by lightly sweet amber, subtle spices and rare woods. Although Kashkha bears the clear features of oriental, thanks to its citrus tone, it can be worn even in summer. I would say it warms up in the winter and refreshes in the summer. It sounds weird, but that's just how it affects me. And if it is true that "kashkha" in the Orient refers to an elegant person with refined taste, then the name of this fragrance fits exactly. (02/01/2021 - Petra P.)

Wish you a nice day. Today I got another package with a wonderful scent. SWISS ARABIAN KASHKHA - I must say I was afraid she wouldn't be too heavy for me. Immediately after the first smell, I realized it was exceptional. It reminds me a little of men, but it is a mixture of spices and oud. I can feel the apple and the rose from it .... Not only is it packed in a beautiful package, really like a princess, but it's a really special oil perfume and just a little bit and you feel exceptional. Thank you very much and I look forward to the next miracle. Yours sincerely, (9/11/2019 - Andrea J.)

A cordial greeting from Germany, to the magical Anabis, the desired package finally arrived ... the local post office baked me a little and left the package lying at the door of the neighbors, so I already suspected that it was missing somewhere ... my beloved, mysterious Kashkha has already flooded the entire bedroom with her unmistakable magic scent. In the summer it works and decomposes completely differently, but it has the power to warm up and not just on the body! Now that I've made it up, I can enjoy it to the fullest! As always I have no words ... thank you for the amazing surprise in the form of a gift. I haven't tried the samples yet, Kashkha is just what my olfactory cells need right now! I am very happy that it is in stock again and hopefully will not disappear again ... Great thanks and a beautiful weekend Your bliss again (25.1.2019 - Lenka S.)

Otherwise, I'm starting to flirt with Kashka, which I am very surprised myself, because I put her first formula off with a feeling. "Not this ..." that "this yes" :-D I have a sample of perfume and I want to try the oil ... and apparently it will be another distinctive smell on my shelf .. (27.1.2015 Hanka Ch.)

KASHKHA CPO - Perhaps Kashkhu CPO cannot be ordered. Who likes the smell of Arab princesses will be trapped in her net. Kashkhka is truly wearable all year round, there is nothing missing, flowers, fruits, oud, spices, musk. Everything is mixed so that nothing stands out and is in perfect harmony. The smell is charming, its intensity will amaze you. (15/10/2014 - Radmila H.)

Kashkha cpo and edp - must not be missing, must be in stock, must not occur. The oil is dense and thick. First the narcotic spice shows up in conjunction with the red rose just before flowering. The leaves are dusted with delicate vanilla, dried to dust and strong sandalwood, smoking, hot to burning. There are citrus tones in the background, a bit bitter to dignify the sweet cinnamon. The fruit is represented by a juicy red apple and an unripe pear that squeezes a little against the apple and does not roll it. The smell is so hot that I feel as if my skin is burning. Edp holds the line of cpo, just lighter and develops faster, doesn't plunge, makes floral tones stand out. Kashkha is one of the most beautiful Arabian fragrances ever. Liquid passion. (Jul 8 - Simona J.)

... I would like to express my complete satisfaction, both with your work and with the Kashka perfume I bought here for my fiancee. Next day delivery with personal message from owner? This is a sign of a solid businessman who stands behind his business. The product itself, Kashka CPO, is exactly as described in the description, if not better. Keep it up, you just got a satisfied long-term customer. (14/03/2014 - Jaroslav B.)

I am very happy about both Kashkhek edp and cpo, both of them are running out, so I have a store of this beauty, but just Kashkhy is never enough. :) (Feb 28, 2014 - Simona J.)

From Kashka I'm surprised how beautiful she is. I enjoyed Kashku in EdP this week and I really like it, it is also a bit of Black Oud style by P. Montale, it just has more roses and an oriental tinge that holds beautifully. Kashka - pink beauty, I was very surprised. The cpo form is stronger, the edp form is finer. The cassette is tempting, now I have caught the oil, which is so deep. I am more and more in need of these fragrances, it is simply a beautiful world in which I feel good and I cannot imagine life without Arabic fragrances. The most beautiful of your scents are the clouds that are carried behind us and then perfumed clothes - t-shirt, scarf, duvets - just what we crawl into - it smells good. (11/22/2012 - Sylva F.)

Kashkha - this is my suppose lifelong love. Her individual essences, when they intersect, is a hot carbon that smolders, but beautifully, caresses, shows uniqueness, lends a dream of luxury that will give you its splendor. I needed to get an oil version for EdP :-), which is a perfect perfume gem, especially now that it is warm. She really does magic .... (May 1, 2012 - Květa Z.)

Have you tried one of our perfumes?
Let us know
how you like it!
You might also like