Al Alwani Kasarat Al Dhahab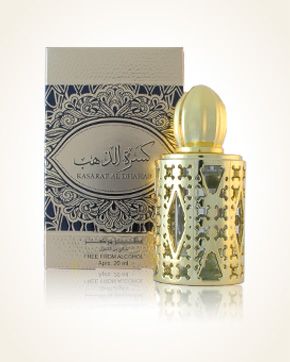 Al Alwani Kasarat Al Dhahab
Concentrated Perfume Oil 20 ml
Out Of Stock
Concentrated Perfume Oil Sample 0.5 ml
Out Of Stock
Notify me when available?
Description
A pair of Al Alwani Kasarat fragrances - in a golden flask is a floral fruity fragrance full of softness and silver will breathe the oriental warmth of spices.
Violet lure blended with the fragility of cherry and apple blossoms complemented by vanilla seduction - it's an irresistible play of charm.
Fruit notes are echoes of cherries and raspberries bathed in a pool of sensual musk. In the end there is a barely perceptible tone of rose and rare trees.
Kasarat Al Dhahab is tenderness itself.

Customer Reviews (6)
Kasarat Al Dhahab - a golden well guarding a tender, juicy, fruity treasure, its aroma is beautiful, I have it for the second time. (6/15/2017 - Milena P.)

Beautiful fragrance, first I feel the delicate scent of apple blossoms, then comes violet and after it develops for a long time intoxicating scent of flower bed. Finally, add a musk powder with a pinch of vanilla. Stamina celodenní. (7/16/2016 - Mirka P.)

KARARAT AL DHAHAB - fabulous, delicate fragrance full of flowers - violet, cherry blossom, also raspberry fruit and delicate musk peeks out with a bit of vanilla. (06/07/2016 - Veronika H.)

Al Alwani - Kasarat Al Dhahab is fragrant, I smell raspberries, cherry and apple, vanilla comes out and this is just yummy ... :-) (May 4, 2016 - Jana C.)

In the blooming orchards of the Příhrazské Rocks I was remembered by Kasarat al Dhahab, according to the golden ornate bottle of fairy-tale palaces. from Bohemian Paradise :-) She's beautiful. How I look forward to spring ... (February 19, 2016 - Lucie K.)

Kasarat Al Dhahab - the bottle is breathtaking, it is like a golden lattice of light lace that guards the juicy, gentle, tender, fruity treasure as fragile as a cloud, its aroma is beautiful. Thank you for your irresistible scents, without them no more step: -) (23.9.2015 - Miloslava P.)

Have you tried one of our perfumes?
Let us know
how you like it!
Notify me when available?
You might also like