Afnan Johrah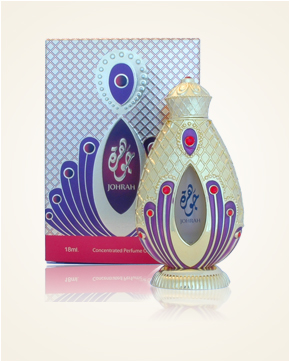 Afnan Johrah
Concentrated Perfume Oil 18 ml
Out Of Stock
Concentrated Perfume Oil Sample 0.5 ml
In Stock
Description
The fruity, fresh and slightly bitter introduction offers gourmet pineapple with citrus, distinctive echoes of black currant, bitter grapefruit peel in an eye-catching harmony with an opulent, sweetly carried magnolia.
The smoothness of vanilla caress is in contrast to fresh pepper and spicy nutmeg, to which is added a gentle swaying rose with white-jasmine jasmine and only remotely echoing trees dominated by oud oil and sandalwood.
The whole composition looks juicy, with a slight echo of the Orient.

Customer Reviews (4)
This is so beautiful, so after Azhar and Lamse I discover more and more beauties in the most beautiful dreamy flakoncich.It's so hard to decide which to prefer, the only solution is to have them all, all that attract me because of these beautiful scents you can't resist, they are just so amazing that I feel I can't be without them anymore. Thank you very much to all the women who write beautiful comments on the scents and help with the decision you still have to try. And then, at least, I see that so many other women have succumbed to the possession of these treasures. . Thank you Mrs. Lenka and Jana for finding these gems for us and making us a more beautiful day.You are amazing !!!! Thanks.❤ (3/9/2018 - Helena K.)

Johrah - I smell my wrists from the morning, I feel more sandalwood and spices with a gust of wind, black currants and roses twinkle a little. It is a beautiful oriental with long endurance. Flakonek skvostný. For me it will be more for the winter .... although I still like it very much. (7/19/2016 - Mirka P.)

Afnan - Johrah - really fresh for me, which is not exactly my cup of coffee. However, anyone who likes a fresh scent with a touch of spicy spices will be pleased. At the beginning I cheered, called for pineapple, black currant accompanied by sandalwood. But then the spice citrus was added and the scent didn't develop much on my skin. Here and there a hint of breeze from the Orient. Beautiful perfume not to mention the bottle, but I prefer sweeter fragrance. (7/13/2016 - Lenka S.)

Afnan - Johrah - I liked this oil very much at the presentation and today I just arrived and again just beautiful, delight. I really don't have words. Beautiful refreshing fragrance, I really like this summer ... and I haven't tried the new Deen and Strike, which according to their composition will also be my cup of coffee. Again, thank you again for these wonderful scents. A beautiful summer !!! (01/07/2016 - Lenka G.)

Have you tried one of our perfumes?
Let us know
how you like it!
You might also like