Jenan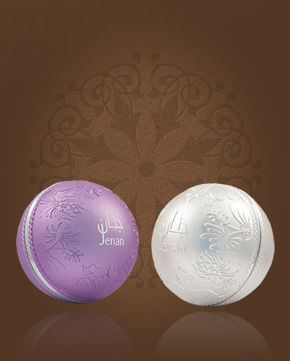 Jenan
Sada CPO 18 ml + EdP 30 ml
Out Of Stock
Sada vzorků CPO 0.5 ml + EdP 1.0 ml
Out Of Stock
Notify me when available?
Description
In the Jenan gift set, you will find fragrances in Concentrated Perfume Oil and Eau de Parfum. Fruity tones intertwining with sparkling glittering ice cubes to give the entire composition the right refreshment. They are luxuriously composed tones in the composition Arabian Oud.
Jenan CPO
At the beginning, the fragrance has an opulent tropical fruit feast in whose first notes you will feel exotic sweet and sour lychees and ripe mangoes with sparkling fresh musk. The fruit wave continues with yellow, honey-tasting melon and juicy pineapple. The gourmet perfume will lure you into its fruity nooks with an echo of vanilla, sounding sensual yet fresh.
Jenan EdP
The fragrance version of the perfume water shows us in the opening tones a ripe pineapple with maracuja, which takes together a magnificent magnolia with its narcotic sweet footprint and another white ylang-ylang flower. Behind the curtain we are hiding a white rose with a little green fresh to herbal tones in the form of violet leaves.
You can wear perfumes in combination or each separately. In the fragrance oil version, the fragrance is fruity and fuller, the perfume water is fruity floral.

Customer Reviews (2)
Jenan cpo and edp. Cooked with jam from strawberries, raspberries, blackberries, mangoes and sour currants. Jam thickens, sweetly sour smell carries the room. Somebody playfully sprinkled a handful of chili peppers, they smell of spicy and marmalade refreshes. The space is filled with the scent of freshly peeled oranges and sliced sugar melon. The garden carries the moisture of the sprinkled garden, slightly earthy and full of flowers from summer beds. The sliced vanilla pod on the fruit-set table mixes the saturated air and adds dustiness. The aroma is dense, distinctly fruity, full. The edp version stands almost perfectly, but the jam is not yet boiled, the flowers in the garden are not strewn and the vanilla pod has not yet been cut. On the other hand, flowers were added in vases. (08/07/2014 - Simona J.)

Jenan - for me the type of fragrance ala Masaki Matsushima, fruit, flowers, satiety, but in a way clarity ... but thanks to the country of origin with Arab opulence and satiety, juiciness, just to bite. CPO - lychee, honey melon, mango, beautiful musk, EdP - pineapple, maracuja, star of carambola, yuzu, some flowers of magnolia and ylang, trace of white rose ... Combination of both also amazing (personally I like even more but CPO itself) , in the end everything looks refreshing ala fruit on ice. (10/08/2013 - Renée H.)

Have you tried one of our perfumes?
Let us know
how you like it!
Notify me when available?
You might also like