Khadlaj Jameel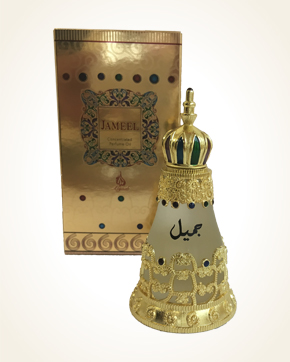 Khadlaj Jameel
Concentrated Perfume Oil 25 ml
In Stock
Concentrated Perfume Oil Sample 0.5 ml
In Stock
Description
The powerful floral trio - roses, jasmine and lilies - begins to get into its gill right in the opening chords. But this concert also opens the bitter tone of Afrikaners and atmospheres, which are also emphasized by candied peel of grapefruits and oranges.
In the gourmet wave we come to bitter almonds in caramel, which together with cardamom and dark anise chocolate create a gourmet seduction.
Trees, headed by cedar, bound by a special dry grassland and vetiver, also speak for themselves. The whole tone of the scent is bitterly - floral chords.

Customer Reviews (2)
Khadlaj Jameel. So that's a bomb. Distinguished. That occurred to me while smelling. Roses, jasmine and lilies are there, but not a single translation seems to combine together. And the rest is also not dominant. Harmonia thought of it then. It's a fresh perfume at first maybe a little stronger, but you're sure to get used to it. Well thank you. (09/03/2020 - Dominika J.)

Hello dear Mrs. Jano and Lenko. At the weekend my friend brought me the ordered perfumes Jameel and Taj al Arab. Jameel's oil is beautiful. It is the fragrance I was looking for and found just at you. Stamina is great. I can feel it all day. When I think I could feed him, the wind blows and Jameel logs in again. (5/19/2017 - Marie J.)

Have you tried one of our perfumes?
Let us know
how you like it!