Pheromone Perfumes In Black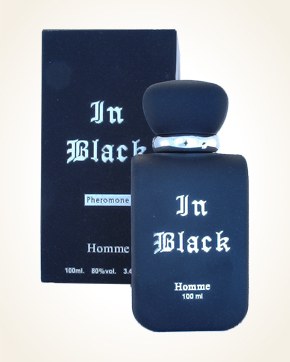 Pheromone Perfumes In Black
Eau de Parfum 100 ml
Out Of Stock
Eau de Parfum Sample 1 ml
Out Of Stock
Notify me when available?
Description
In Black is warm, with the first spray also very seductive stray thanks to the delicious tones of coffee with cardamom and a pinch of saffron.
We continue to the echoes of oriental spices in the form of cinnamon and untamed licorice. The aroma is literally packed with gourmet seduction.
There will be a smooth warm wool of linden blossom, which accompanies dry tobacco leaves with cedar and sandalwood and with the emerging notes of licorice, now in a bergamot composition.
In full fragrance there are pleasant waves of earthy herbal patchouli in contrast to the soft sweet vanilla with a bit of dark chocolate shavings. And the complete conclusion is in a spicy nutmeg with freshly raised pepper, which spice complements the deep ambergris.

Customer Reviews (1)
I would like to write a very commendable review of Pheromone Perfumes's In Black Fragrance. I fell in love with it from the formula. I can smell a lot of licorice there and it attracts me a lot. Other people in my neighborhood feel flowers, spices, etc. Anyway, it's a big holder and everyone praises it so much. She is beautiful! (09/11/2017 - Michaela K.)

Have you tried one of our perfumes?
Let us know
how you like it!
Notify me when available?
You might also like