Khalis Ilham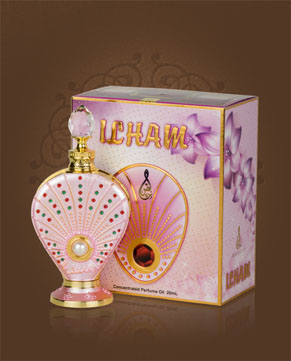 Khalis Ilham
Concentrated Perfume Oil 20 ml
Out Of Stock
Concentrated Perfume Oil Sample 0.5 ml
Out Of Stock
Notify me when available?
Description
Gourmet chocolate and strawberry melts in Khalis's floral fruity aroma
The opulent scent of unique gardenia combines with the luxury of iris, which delicately permeates the sweetish-bearing mimosa. Strawberries dipped in dark chocolate with soft, powdered vanilla and juicy tangerine are added.
White flowers, headed by a jam and tuberose, play their tones with sandalwood and a soft musk stroke. Conclusion is the echoes of rare trees and powder-bearing magnolia.

Customer Reviews (8)
A few weeks ago I bought my first oriental perfume - Ilham. For a long time I was looking for a replacement for "my" fragrance, which I have been faithful since the age of 18 and which they stopped producing. I found and tried a lot of nice scents, but it was always just for a while, then I stopped enjoying it. I still wanted something that would grab my heart just like my old one. Something that I would remain true to, just love for life. :) And thanks, I found her! It's Ilham! Finally, people around me ask what I smell so beautiful ... Thank you very much for bringing us to the Czech Republic these wonderful oriental fragrances, and that we have the opportunity to use them and have them around. :) Have a nice day and many success in your business !! (09/07/2015 - Jana F.)

... today in one drugstore I got a great compliment on perfume from you. I was alone at the cash register and the cashier was suddenly saying - what does it smell so beautiful? I was silent because I hate to draw attention, but the lady didn't give in and said - you smell that! So she wanted to know what I smelled. I call her - that's Arabic perfume - Ilham. So they say it will look at your site. She assured me that I was not over-perfumed (as I thought) - I sometimes judge it hard - I don't feel myself anymore, but I do. That is why I alternate perfumes so that I do not lose my sense of individual scents. Again, I made sure that Arabs are beautiful perfumes. Such a compliment will please. (5/16/2015 - Jirina K.)

... I would like to say that I liked the formula very much Ilham, which I ordered based on a very positive review from Mrs. Andrey. The smell is really fabulous. As if I was immersed in chocolate Indulona :) Of course positively. Therefore, I order it in larger than you sell it to me :) (24/11/2014 - Lenka V.)

Ilham, it's an incredible smell. Not only does it smell divine, but for the money it is a treasure of all treasures. I have already found out that they hold a long, normally 24 hour, but it also goes wonderfully into space, so another plus. I opened the bottle and Ilham smelled the apartment. She shook my perfume throne deliberately and became one of the ruling elite, where the Chic Shaik triuumvirate, with Nawa and Taj Al Arab, was still active. The more I am with her, the more it becomes necessary (25.10.2014 - Andrea Ž.)

Ilham, a magnificent flacon with a wonderful scent of chocolate and mandarin, transforming into the delicate scent of magnolia. I smell in the morning and in the evening when I get home from work, my son tells me, Mom, you smell beautiful. Perfume has really excellent all-day stamina. Last week I got it with two more, Aziz and Arba wardat. I try them gradually, and I must say, they are treasures that cannot be compared to European scents. (11/10/2014 - Jarmila Z.)

Ilham - beautiful perfume I can not help, but after the first scent reminds me of the baby's smell and after a while it changes beautifully and smells of chocolate, but no sweet such delicate pleasant - no gem. (9/17/2014 - Veronika H.)

... thank you for those divine patterns. I eagerly puffed the envelope right at the post office and threw myself at Ilham and since then inconvenience :-). With my hand glued to my nose, I left the post office to realize at home that I had a car at the post office, of course I totally forgotten in anabis narcosis :-) So I went there nicely again. Well, what to say? Nothing, just a manifestation of addiction. I'm going to explore other attractions. (15/09/2014 - Andrea Ž.)

Ilham CPO or Silver Style 9? I perceive a very similar scent line, they are beautiful and luxurious. Ilham has the advantage of a very affordable price and, for me, that he is in oil. As the fragrance of chocolate and fruit blend with the wonderful fragrance of flowers, it is a concert to "hear". Wherever there is an iris and tuberose, I always wake it up ... their combination gives a sense of luxury scent, and it's no less at Ilham. (14/09/2014 - Jana K.)

Have you tried one of our perfumes?
Let us know
how you like it!
Notify me when available?
You might also like