Al Alwani Ighra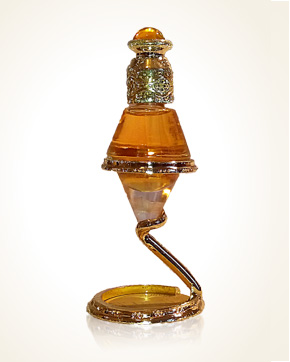 Al Alwani Ighra
Concentrated Perfume Oil 12 ml
Out Of Stock
Concentrated Perfume Oil Sample 0.5 ml
Out Of Stock
Notify me when available?
Description
The passionately captivating meeting of honeycombs with oud oil will stroke us in the beginning. We continue to the gourmet tones of candied fruit drowning in a bed of powder vanilla and dark chocolate.
From the distance we can see buds of softly flowering roses, which are lined with white echo of jasmine.
The conclusion is in the warm woody key melting in the soft velvet ambergris.

Customer Reviews (6)
Thank you for the amazing speed of delivery and pleasant communication over the phone.This smells enchanted me because she really wants time to develop into karst.Tak in 2 hours became a teploucki powder smell with a touch of warmth and body ambry.Myslim, these perfumes they will find their place with me on the shelf and I will recommend to my friends and try other of them and also some mans for my guy. Thank you for discovering you. (09/02/2017 - Eva C.)

Ighra - a luxury fragrance, all the girl who combines with candied fruit and jasmine, as it is nicely tuned, is not sharp at all, my husband likes the smell too much, I have the impression that it goes to me ... and how do I know? because it smells like chocolate ... :-) (7.1.2017 - Jana C.)

Ighra-luxury flakonek, which intrigued me and which evokes sensual ideas-I smell so far in the formula and say YES..harm, honey, sweet, soothing..only, light a candle and bundle with this scent under the blanket. Although I did not appetite for sweet scents, this one is very pleasant to me. Ideal for autumn and winter, so I know what to save further. (04/05/2016 - Irena Č.)

Ighra - this is a clever flask :-) full of honey and chocolate. Beautifully merged with oudu and some fruit. Thank you for meeting and beautiful smell. (3/4/2016 - Linda B.)

Beautiful flacon and fragrance really reminds Daliya and Noora. It is warm and honey-chocolate. (3/2/2016 - Petra Š.)

Ighra - at last, the cold runs out, so I can enjoy the scents again. This gem appeals to both the eye and the nose. Honey, chocolate, vanilla ... that's beauty! Beautiful perfume, dense, velvety soft, strong and tender at the same time. And the bottle ... Beautiful !!! She evokes in me images of fire blazing in the fireplace, mysterious women lying in front of a fireplace on fur, dressed in red velvet ... is sensual ... (21/03/2015 - Lenka S.)

Have you tried one of our perfumes?
Let us know
how you like it!
Notify me when available?
You might also like