Nabeel Hawaas Al Ghalb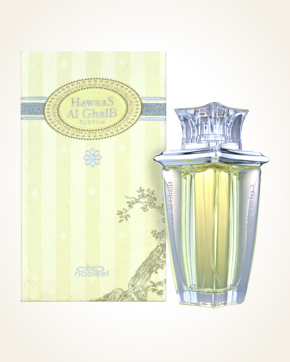 Nabeel Hawaas Al Ghalb
Eau de Parfum 80 ml
Out Of Stock
Notify me when available?
Description
May your passion awaken your senses with Hawaas Al Ghalb perfume - as Nabeel perfumers recommend - try the touches of floral fruity tones that accompany musk and essential oils.
Just a few introductory chords give an idea of the irritating seductiveness of perfume. Lemon lime freshness is swaying in raspberry pineapple mousse, through which we continue into an unusual combination of coconut and apple.
There is a magnificent floral caress of roses, orchids, crisp lilies of the valley, jasmine, irises and freesia. It is a flood of flowers that spells its uniquely composed keys.
Another key that envelops you in a softly warm embrace is plum-sounding osmanthus with vanilla heliotrope.
With fragrant grandeur comes true ambergris, connected with moss, cedar, sandalwood, and then with a strange, orientally sweet aroma with spicy touches - which is the nagarmotha essential oil.
Woody sweet finish with vanilla echo belongs to Gurgun balm and pure tones of tenderness that has musk.

Notify me when available?
You might also like