Khalis Hasna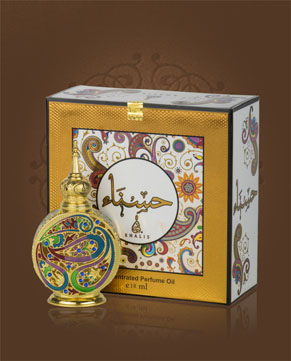 Khalis Hasna
Concentrated Perfume Oil 18 ml
Out Of Stock
Concentrated Perfume Oil Sample 0.5 ml
Out Of Stock
Notify me when available?
Description
The Khalis novelty will take you to gardens with heady scented flowers, an oriental marketplace full of strange aromas of spices and fruits, and immerse yourself in the scent of precious woods.
In the introduction we will introduce the interplay of floral tones, dominated by roses bathing in a honey bath. The stroking of the velvety ambergris and the bitter orange intertwines with the sheer echoes of patchouli and the mysterious oud oil. There are gourmet tones of bitter almonds, citrus peel in chocolate and sweetly tender vanilla.
The conclusion is a combination of the scent of roses and mysteriously sounding tones of rare resins.

Customer Reviews (4)
Hasna - I was surprised by the beautiful bottle, the photo will not excel his beauty. Inside, there's a wonderful scent that instinctively closes your eyes. Perfume as a whole is simply a gem! (1/15/2015 - Jaroslava K.)

Hasna sample I ordered again based on a review by Mrs. Jana. Oud fragrances do not have much. Even though some fragrances were sometimes said to be suitable for oud beginners, I did not feel anything other than oud, oud, and oud from the ingredients described - even after scenting. That's why I didn't even order samples of such fragrances. But Hasna is different ... I gave her a chance and didn't disappoint! After (for me) a strong oud beginning is followed by a beautifully delicate floral fragrance, to which I must constantly smell. So I also buy it in bulk :) Thank you very much again for your answers and for bringing these beautiful scents here! Just wipe your wrists a little and you have a better mood right now (24.11.2014 - Lenka V.)

Hasna is amazing perfume, perfume bottle is perfectly elaborated, the beautiful colors complemented by blue stones and the smell is directly divine. The perfume box I have exposed, is also beautifully elaborated, just a gem. My shelf has been nicely filled since the first FB sample won. I'm very happy with the perfumes. (29/09/2014 - Jana Š.)

So far, I have tried Hasn perfume from a sample according to your advice, this is a divine fragrance. At the first opening and smelling I thought, this is not a scent for me. After applying to the skin I think, it is more oud smell and it tells me nothing. After 3 minutes, I try to find the originator of the beautiful smell I feel and hey Hasn. Floral, somewhere in the background citrus and very fresh rose. It's a jewel so I hope it will be available next week. (September 24, 2014 - Jana Š.)

Have you tried one of our perfumes?
Let us know
how you like it!
Notify me when available?