Khadlaj Hareem Al Sultan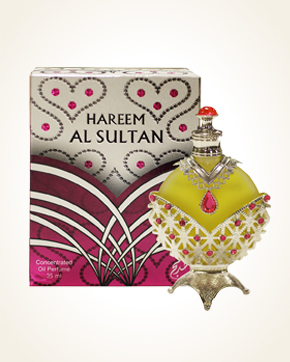 Khadlaj Hareem Al Sultan
Concentrated Perfume Oil 35 ml
In Stock
Concentrated Perfume Oil Sample 0.5 ml
In Stock
Description
The softly gentle touches of the lotus flower, together with the intoxicatingly sweet freesia, open their arms to the deliciously sounding vanilla. Then a juicy pear with mandarin is added and the gourmet seduction is illustrated with white chocolate.
The interplay of other floral chords, artfully composed of several tulips, delicate white-blooming roses, lilies of the valley and sweet mimosa, permits the supreme onset of the smoothly smooth woods intertwined with the musk and its gentle trail.

Customer Reviews (8)
Thank you very much for the quickly processed order, for the wonderful gifts. not only does it act as an aromatherapy for a happy view - now and here (no more "sore hearts" from the past, onko, covid ...), but also the surroundings perceive it very positively. It is simply a scent that evokes joy and happiness. (15/05/2022 - Bronislava Č.)

Khadlaj Harem al sultan. I have to express myself as one lady wrote that she feels like this lily of the valley like this lily of the valley. He literally got me out of Saturday's depression. I understood the feeling of a lily of the valley and I read the composition. But then calm down and have a full bowl of treats with flowers. Hm. Beauty. So later I will order the gold version and see which will be better. Not over aromatherapy. Thank you. (10/05/2020 - Dominika J.)

Hareem Al Sultan perfume oil by Khadlaj is very nice. I've been thinking and thinking for a long time - I know this scent until I figured it out. It is similar to the scent of 1991, which was a hit of that time by Givenchy - AMARIGE, but the one of those years, not the one that present. So whoever remembers it can buy it here in Anabis and in an even more concentrated version for very nice money to buy. So I rejoice. (18/10/2017 - Zdena B.)

Good evening, Mrs. Lenko, I was ordering perfumes for which I was impatiently waiting. The first Hareem Al Sultan - it is full of flowers tied from tulips, sweet mimosa, freesia snowy vanilla, dewy pear and tangerine, supervision make roses that caress woody and velvet musk.Nádhera ..... (15.6.2017 - Milena P.)

Hello, I really liked both Hareem Al Sultan from the photos, so I ordered samples yesterday and was curious. Silver is a beautiful freesia with chocolate shavings and somewhere in the back a lily of the valley is cool, we are very pleased with our daughter and the freshness of citrus and pear ... it is purely feminine smell that will belong to my collection. Simply its composition and flacon do not leave me in doubt ... (8.6.2017 - Marta B.)

Hello Mrs. Lenko, so I was looking forward to Harem al Sultan Silver and I am very disappointed so far. Flakonek is beautiful, but I expected a delicate (floral-fruity) fragrance, citrus, chocolate, freesia, pear, but this is a lily of the valley "tsunami", I do not feel anything other than lily of the valley and although I like lily of the valley I put a mini drop on my hand and I feel like a huge "puget" of strong: -o, narcotic: -o lilies of the valley. :-( While the sample Harem al Sultan Gold is beautiful, ... soft, warm, beautiful smell for the summer. Oh yeah, I just chose wrong ..... :-( I wish you a nice day and a beautiful summer (1.6.2017 - Renata K.)

Hello today I received from you ordered perfume Hareem al Sultan and I just want to write a big thank you ... wonderful absolutely satisfied and wish you a lot of satisfied customers with your company I stay just right I missed you in the Czech market because you are. Krasny den ... (Mar 8, 2017 -Ivana B.)

New Hareem Al Sultan captivated me with its beautiful flacon, so that the breath is hidden. Exactly that I miss in my collection ... :-( A scent of perfume? Beautiful, sophisticated woman, captivating. Freesia dusted with vanilla heavy under the tones of narcotic mimosa. And the conclusion is that the next order is most likely to show the Hareem Al Sultan gem, and I am always surprised when the price of a beautiful scent in a fabulous bottle is so low. (4/4/17 - Lenka S.)

Have you tried one of our perfumes?
Let us know
how you like it!
You might also like