Khadlaj Hareem Al Sultan Gold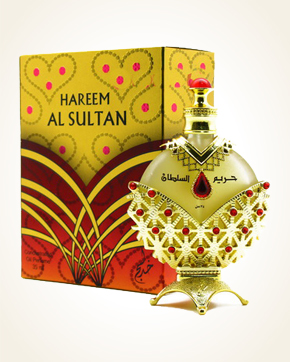 Khadlaj Hareem Al Sultan Gold
Concentrated Perfume Oil 35 ml
In Stock
Concentrated Perfume Oil Sample 0.5 ml
In Stock
Description
Citrus lure, delicious and juicy, gently curls into the gourmet vanilla pods. It is directly a bowl full of sweetly ripe mandarins, oranges, gently bitter grapefruits, and sour lemon slices.
The creamy ylang-ylang in harmony with the peach creates a seductive tenderness, which is also complemented by several honeycombs and raspberries.
The colors playing freesia contrast with the white cold lily, when the aeration and exudation of the whole scent comes with the purity of musk.

Customer Reviews (5)
Hareem al sultan Gold is an addictive juicy milk that will improve even the nastiest day :-) It is just perfect. (09/27/2019 - Simona O.)

With the perfume KHADLAJ HAREEM AL SULTAN GOLD I left yesterday, I liked it before, but then it was sold out. It is a lot of music for little money :-) Unbelievable holder, suitable for cold autumn weather, improved my mood, I find it on the beach with a bowl of tropical fruits, it brings me memories of summer, which I like now. Thanks for him. (10/28/2017 - Lenka G.)

Khadlaj Al Sultan Gold: Honey Fruit - Being a Hareem Al Sultan Gold image instead of a fragrance, your saliva converged when you look at it. Fruit. But what! Peaches and mandarins drawn through boiling honey to soften, almost thawed, and then cooled with bergamot. Cream. Imagine it with real butter and real grains of vanilla. The fruit is more than a cream, it mainly smoothes out what would remain sharp after the honey bath. Fruits painted with vanilla cream is the main attraction of perfume, but not in a vacuum. The space around it is filled with decorative details of complementary aromas. There is a sour and deliciously sweet fruit. They can be citrus, but even gooseberries. They can be flowers that smell of fruit. They are just fragments. No, it's not sweet. The counterbalance of sweetness is acrid herbal tones and bitter bergamot. After a few hours, the lily appears unexpectedly, or rather just a hint that it will not disturb its gravity. The aroma matures to a relaxed position of light dry wood with vicious touches of many delicious aromas. (9.7.2017 - Dzona - Breakfast in Perfumery)

Hareem Al Sultan Gold - citrus concert of juicy oranges, mandarins, lemons and grapefruits accompanied by flowering ylang-ylang, rainbow-freesia playing, blushing raspberries hidden in honey and of course velvet musk. one without the other can not be.Everyone is different and both divine. Thank you ..... (15.6.2017 - Milena P.)

Gold is full of fruit, a fruit salad with sweet honey. Flowers are here "on the second track" but it's in a pleasant harmony. She loves her daughter, both scents are beautiful and their shelves will be removed their flasks :-) Thank you and wish you a nice summer, (8.6.2017 - Marta B.)

Have you tried one of our perfumes?
Let us know
how you like it!
You might also like