Pheromone Perfumes Hamdoon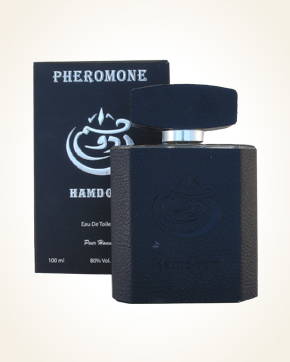 Pheromone Perfumes Hamdoon
Eau de Toilette 100 ml
Out Of Stock
Eau de Toilette Sample 1 ml
Out Of Stock
Notify me when available?
Description
The artfully laid skin with its irritating animal note is connected to a bitterly winding caramel that sways gently on a lazy wave of honey - the introduction to this very special, appealing aroma.
We continue from the dry leaves of tobacco to the rare tree species with the main chord in oud oil, which, together with earthy patchouli and moss, creates another mystically sounding perfume key.
Let yourself be seduced by a rounded, velvety tender dot of ambergris with the queen of flowers - her highness of roses.
This perfume - that is sensuality - hidden, alluring, intoxicating and directly sinfully attracting.

Customer Reviews (3)
Hello after Christmas, ..... my husband did not last and bought himself Diora Intens. for 3 thousand :-(, before Christmas .... but as soon as he received a Christmas gift Hamdoon smell, he smells only with her, we chose well ... :-), I feel his smell and is amazing and especially smells him and that's important. She says she doesn't feel her, but I feel her next to him, and that's how it should be. Certainly it will not be the last fragrance from you and we are looking forward to selecting the next and next. Thank you very much and I wish you a nice rest of the old year and in the New Year a lot of satisfied customers. We look forward to more perfumes from you. We are also planning to visit Brno personally .. sometimes when it is free and we agree :-) Beautiful day your new customer (30.12.2016 - Alena P.)

Hamdoon .. yesterday I received another fragrant shipment, I calmly tested samples, mostly sweet, juicy, not that I rejected them, but after my already refined taste I took notes rather not until I tasted Hamdoon., Something reminds me, I do not know exactly what, but the introduction of the scent absolutely captivated me. he sucked me in. He gave me the time. In the end I feel the beautiful smell of newly purchased leather purses painted lightly with honey, standing in the middle of a forest with succulent moss after a summer storm and far from everything. there is something extra in this fragrance, not only animal extra, something indescribably mystical, strange, interesting, and I know I just have to have it and that with a 1ml sample I will survive a maximum of 2 days :-) and so I order the full version, this fragrance, I would say unisex, is absolutely unrivaled, very interesting and strange, probably depends on how they divorce.Hamdon displaced my favorites in the form of Abiyad Musk , Rooh al Musk, White Musk, Lovely edp, Naseem Lamsa, Cherry Flower..to all I will be happy to come back at some time of year, but I am building this mystical fragrance at the moment no.1 and I know that it will be very pleasant to accompany me not only while falling asleep, but also on the road through nature, with which it will have perfect harmony.Nádhera !!!!! (25/11/2016 - Irena Č.)

Hamdoon - wonderful fragrance! Leather, moss, dark gold forest honey ... the perfume introduction reminded me strongly of Bottega Venet. The hot thick caramel embraced me and patchouli conjured, along with other spices, the unmistakable oriental charm that Bottega, of course, lacks. Hamdoon charmed me, but I just can't decide ... after the smell I feel more like a mens. But charming, captivating, sexy. (11/13/2016 - Lenka S.)

Have you tried one of our perfumes?
Let us know
how you like it!
Notify me when available?
You might also like