Al Rehab Golden Sand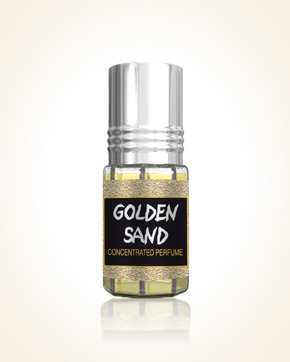 Al Rehab Golden Sand
Concentrated Perfume Oil 3 ml
In Stock
Concentrated Perfume Oil Sample 0.5 ml
In Stock
Description
A pocket pack of oriental perfume, the big advantage of which is the small size (3 ml of perfume) so that it fits even the smallest handbag or pocket. In addition, perfume is very easy to apply using a ball in the bottle cap. So you can always have your favorite fragrance with you.
The fruity lure of tangerine with the intoxicating aroma of peach in a unique harmony with the irritatingly warm trace of vanilla and musk, that's Golden Sand.

Customer Reviews (7)
Golden sand - this is just such a decent cuddly clean vanilla ... (16/12/2018 - Romana V.)

Golden Sand is a sweet vanilla delicacy that reminds me of my childhood moments when my mum in the kitchen was spellbinding and creating all sorts of delicacies, and at night, when I was laid to sleep, her hair smelled of vanilla. Arabian vanilla scents "get me to my knees". Their sweetness is neither distracting nor sticky. They are like a warm soft blanket in which one packs up and feels somehow safe (26.8.2016 - Lenka S.)

Golden Sand .. some time ago I tasted Vanilla musk, but pure vanilla is too strong for me, here in Golden Sand is pleasantly tamed by fruit..it vanilla dominates in the beginning, but after scenting goes alongside peaches, which is more pleasant.This little thing I will rather leave it for autumn and winter. (23/08/2016 - Irena Č.)

GOLDEN SAND thank you for the wonderful smelling package ... this is exactly what I was looking for ... !!! hmmmmm :) (Sep 24, 2015 - Jana C.)

Golden Sand - a beautiful, beautiful vanilla with fruit that is Golden Sand, a fragrance that I will definitely order again. (June 21, 2015 - Miloslava P.)

As a thank you for purchasing the perfume, I received a Golden Sand gift from you. You smell right into the scent. Gorgeous, beautiful, charming fragrance. I can admit that I have tried a lot of perfumes, everyone was and is something interesting, but this fragrance is unique. Thank you so much for sending it to me. I am very happy and therefore I order the Golden Sand in stock. I wish you beautiful spring days and a lot of success in choosing beautiful fragrances that make you happy not only women but also men. Thank you again (17.3.2015 - Ludka H.)

Golden Sand = Nesma, this fragrant finding will surely delight many of you who love vanilla fruity aroma ... :-) (2/9/2015 - Lenka Anabis)

Have you tried one of our perfumes?
Let us know
how you like it!
You might also like