Al Haramain Forever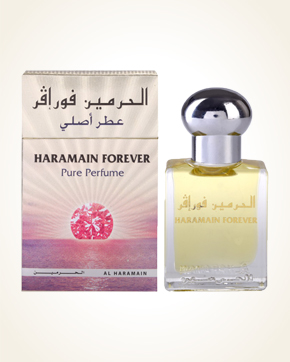 Al Haramain Forever
Concentrated Perfume Oil 15 ml
In Stock
Concentrated Perfume Oil Sample 0.5 ml
In Stock
Description
Pocket package of oriental perfume (15 ml CPO) in a bottle with a ball for easy application.
Softly sweet with a floral fruity whiff alternating with warm woody tones, this is the new Forever.
A touch of ylang - ylang with its intensely strong aroma spreads into a bed of fresh bergamot and seductive black currant. There is a luscious silk orchid with gourmet tones of cream and white chocolate. Mysterious incense and sweetish spiced patchouli together with woody warm sandalwood will end the scent.

Customer Reviews (5)
Hello, I tried perfume from you for the first time, and I can't believe that wau, because I chose one with the cheaper, I didn't really believe it would be as strong as you write, I'm really pleasantly surprised, and I'm sure I order from you ... This perfume forever, it's the power I feel the most vanilla, and the whipped cream it's a delicacy, really just a drop, I smelled for 10 hours in full intensity, super I'm very satisfied, and thank you for the samples (14.12 .2018 - Iveta F.)

Forever - it's a very nice creamy vanilla with beeswax. So I feel it :-) I only have a sample, but I would definitely take it, so sometimes I get it. (1/24/2018 - Zaneta B.)

Forever… because with the first fragrance the mind will wake up a kaleidoscope of forever imprinted fragrant memories. As I peeled a licorice candy, a delightful fruity scent spilling out of the unfolded Tuzex Hollywood chewing gums, Chinese fragrant gums ... Each of them is a little mixed in the opening tones. Initially, a strong floral-fruit combination disappears like a haze and leaves a warm trace of a sweet ylang on the skin, shimmering with drops of fruit, into which the deliciousness of milk chocolate pralines blends naturally. The soft confectionery is exposed to a warm sandalwood tray and slowly dissolves into a soft tender aroma with excellent all-day stamina… forever. (2/19/2015 - Andrea Ž.)

I was curious about Forever. I chose her intuitively and I was a little worried if she wasn't too sweet for me, but she wasn't. It is fresh, unobtrusive, beautifully sugar-floral ... and over time it really feels even the chocolate mentioned in the description. (January 10, 2015 - Gabriela CH.)

As for the fragrance I am a big chameleon. This time I just bought as described and I must admit it was a hit. Very unusual, at first very strong to ferocious smell is then transformed by body heat into a very pleasant, delicate. I can only recommend. (11/20/2014 - Zuzana S.)

Have you tried one of our perfumes?
Let us know
how you like it!
You might also like