Afnan Fakhr Al Jamaal CPO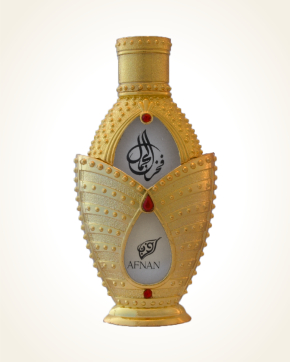 Afnan Fakhr Al Jamaal CPO
Concentrated Perfume Oil 20 ml
In Stock
Concentrated Perfume Oil Sample 0.5 ml
In Stock
Description
In the concentrated version of the perfume, the first trace is blackcurrant, which is dominant. He puts into his scented symphony a bit of bitter orange peel, and the smoothing comes in the form of musk.
From this perfume version, we don't feel so intense fruit tones, but it's a deeper path to rare woods lined with sandalwood, rosewood, and somewhere in the background only cedar lightly peeks to hide and let the scent of pineapple, vanilla and cherries work intensely.
All fruity and woody tones flow over each other to reveal the beauty and uniqueness of the black currant aroma along with the sandalwood.

Customer Reviews (5)
Thank you for the amazing scent cocktail in the form of Fakhr Al Jamaal. It is an attractive perfume of fresh, unsweetened fruity character with excellent stamina and fluffy cloud that surrounds us subtly and also works as an invisible source of energy and good mood. (04/10/2015 - Ivana K.)

Fakhr Al Jamaal CPO - is such a wonderful fragrance that I slip in front of her. It is luxury above luxury. Stamina is endless, just a fabulous scent. (April 15, 2015 - Miloslava P.)

This fragrance enchanted me. Dominating is the smell of pineapple, which reminds me of summer and sun. After that comes the smell of black currant, which lasts long. Then I feel uncomfortable there. Probably musk, but it disappears in the scent of vanilla and the scent of rare trees. After a few hours, the aroma settles on a very pleasant warm wave of cedar and woody plants. It looks like silk on the skin. Although it is on the skin, it seems to me that this smell dresses me up. (2/20/2015 - Gabriela V.)

Fakhr al Jamal cpo is so beautiful that it makes me breathless. (January 8, 2015 - Marie S.)

Luxury rich fruit cocktail, pineapple, orange, strawberries, cherries, blackcurrant, together with sandalwood, cedar and musk. Excellent durability and compliments as a bonus. (05/02/2014 - Renée H.)

Have you tried one of our perfumes?
Let us know
how you like it!
You might also like