Essencia De Flores Cherry Love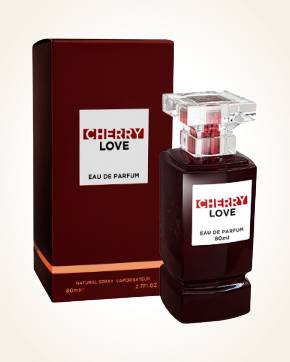 Essencia De Flores Cherry Love
Eau de Parfum 80 ml
In Stock
Eau de Parfum Sample 1 ml
In Stock
Description
Honey ambergris interplays with cedar and clove, making room for the onset of jasmine solo accompanied by gourmet almonds.
The floral serenade also highlights beautiful-sounding roses in the company of delicious cherries and spicy plums. The company also gives them cinnamon, vanilla foam and a finishing touch of cool vetiver.
The Cherry Love perfume produced by the perfumers Essencia De Flores, belonging to the fragrance house Fragrance World Perfumes, is inspired by the fragrance Lost Cherry by Tom Ford.

Customer Reviews (1)
My dear friends. First of all, thank you very much for sending the package with the Essencia de flores Cherry love perfume and the perfume samples. So to Cherry: I can say that it is very, very identical to Tom Ford Lost Cherry, which I tried at Rhodes airport. But the price..., I didn't like it. This perfume is just amazingyyyyy, beautiful and the cherries, vanilla, cinnamon.... it's beautiful. Perfectly blended, a cedar and almond veil emerges after a while. This fragrance will make you happy both in summer and winter. I love stronger and more intense scents. If it smells, it smells. Thank you very much for your business and offers, I am always very satisfied. I'll get to the pattern over the weekend, then I'll write. Beautiful days dear ladies from Anabis and beautiful spring. (14/04/2023 - Jitka K.)

Have you tried one of our perfumes?
Let us know
how you like it!
You might also like