Al Rehab Elena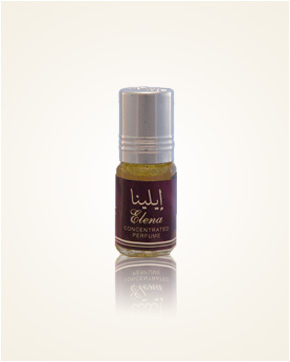 Al Rehab Elena
Concentrated Perfume Oil 3 ml
In Stock
Concentrated Perfume Oil Sample 0.5 ml
In Stock
Description
A pocket pack of oriental perfume, the big advantage of which is the small size (3 ml of perfume) so that it fits even the smallest handbag or pocket. In addition, perfume is very easy to apply using a ball in the bottle cap. So you can always have your favorite fragrance with you.
Lightly fragrant fragrance with directly excellent endurance is permeated with fruity floral tones. With the first inhalation comes magnolia and mimosa with the aroma of wild strawberries, which are prosecuted by a pear and a slight hint of cherries. For overall smoothing, there is a powdery musk tone.

Customer Reviews (5)
Al rehab Elena. Another perfume that is the queen of the flower staff. Strange, unconscious, also a waw effect that pays to turn around, I can't even describe it, but whoever thinks about it, order it immediately. Strawberries and cherries are soft. The rest is as if you were in a flower shop or had a bouquet of flowers in your hands. Thank you (26.08.2020 - Dominika J.)

Al Rehab Elena-squirt with great power. Magnolia and mimosa, later a little strawberry, but just a little scent and feel like after a cleansing bath, pleasantly and lightly. I use it at bedtime and I enjoy it. Thank you for the feelings. Thank you for being. Yours (2/19/2019 - Rena K.)

Elena - she came to me like a present once. I didn't pay much attention to her, and that was a big mistake. Now it came to me in a package with a gift for a friend. She is amazing. Magnolia and mimosa have spoken of from the first moment, and after a while, a handful of freshly picked wild strawberries are added. Beautiful cheerful, juicy fragrance. And I have two bottles: -) ... great ... (17.3.2016 - Lenka S.)

Yesterday I received a package with ordered scents and as is customary with you was accompanied by a gift in the form of scent Elena - it's a wonderful fruity fragrance when it unfolds, I feel a handful of freshly picked wild strawberries warmed by the sun. (10/17/2014 - Katarína P.)

Elena - beautiful smell and huge stamina. Literally all day. I feel cherries, those big black overripe cartilages and strawberries, but this time forest and a few ripe plums, although not in the description. (5/15/2013 - Simona J.)

Have you tried one of our perfumes?
Let us know
how you like it!
You might also like