Afnan El Rand Femme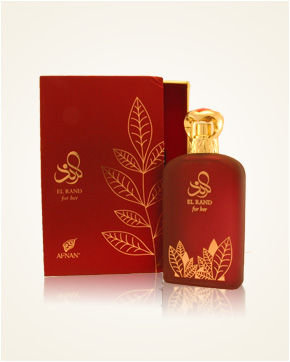 Afnan El Rand Femme
Eau de Parfum 100 ml
Out Of Stock
Eau de Parfum Sample 1 ml
Out Of Stock
Notify me when available?
Description
The tempting tones of floral elegance and fresh touches of fruit - that's the musk and wood-carved El Rand, designed for women.
The magical sensual harmony reaches you with the sparkling scent of pink champagne and fruity echoes dominated by the intense aroma of cherries mixed with strawberries. A pinch of oriental spices and dark forest fruits are added for deeply sensed tones.
The delicate pinkish peach blossoms with their delicate beauty will bind you with tenderness and, together with the gentle onset of a fluffy musk, give room for captivating refinement.
The conclusion belongs to slightly woody chords, which dissolve in the honey warm velvet ambergris.

Customer Reviews (2)
... so today, at lightning speed, the new El Rand Femme arrived - I couldn't wait to unpack it and feel the beauty for the first time. Mr. Afnan is a true fairy tale magician and mixed perfume with refinement to his wife. After scenting, you suddenly transfer to the Garden of Eden and let yourself be carried away on a fruit-blossom cloud with some oriental spices and dream of paradise. Beautiful… beauty… I am glad she is mine and thank you very much for her. (4/21/2015 - Šárka Č.)

A kaleidoscope of sensations from this wonderful fragrance was composed into a mosaic of thick, juicy, velvety embracing compositions with the hallmark of the exclusivity of precious fragrances and a sense of uniqueness. El Rand Femme is a floral fruity intoxicating harmony, initially intense to intoxicating, but within a short time it bursts into a sparklingly fresh, breeze-like position. Those are the strawberries in champagne. The fruit lines intertwine delicately with the floral, fall and rebound from the silk musk cushion, very finely trimmed with woody tones. Tender, smoothly elegant beauty with long endurance. Not knowing it was from Afnan, I'd bet her on the Arabian Oud. (4/21/2015 - Andrea Ž.)

Have you tried one of our perfumes?
Let us know
how you like it!
Notify me when available?
You might also like