Rayhan Perfumes Dubai Orchid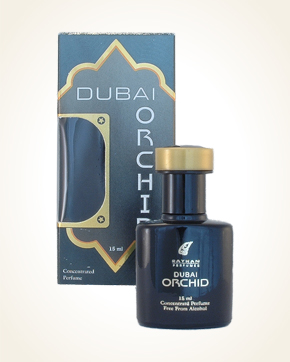 Rayhan Perfumes Dubai Orchid
Concentrated Perfume Oil 15 ml
Out Of Stock
Concentrated Perfume Oil Sample 0.5 ml
Out Of Stock
Notify me when available?
Description
The sweetly fruity footprint leads you to embrace the seductive apricots, cherries and mandarins, which have a vanilla pudding.
The gourmet aria of bittersweet caramel and chocolate shavings is intoxicating, so let yourself be seduced and enjoy the gourmet, vanilla-fruity perfume in which the sensuality of a smooth musk with echoes in creamy woods, as well as fleeting touches of opulent magnolia and honey.

Customer Reviews (7)

Have a nice day, I'm a big Vanilla, Dubai Orichid nice at the beginning, and I thought a vanilla like any Arabica, but I was pretty surprised. Exotic fruit enters the podium, Cokolada soaked in caramel, and in Finale, Freesia joins the dance and knows no magnolia ... Conclusion Ballads even woody species ... Hold up to 8 hours or more and I have washed my hands 2 times today, Thank you it's my new Love (March 18, 2019 - Michal F.)

Greetings to Anabis :) After two orders of samples I came across the smell that fits exactly "on the body". She's Dubai Orchid. Beautiful, delicate, clean, beautifully balanced scent. Over time, I order SURRATI ROYAL MUSK, which smells of me and my sister. I have not tested samples at home for a few days, probably return soon with another order :) I wish you nice sunny days. (27/02/2019 - Eva P.)

Dubai-Orchid ... beauty in the form of Golden Sand and Dust ... vanilla chocolate, this is a fairy tale for my taste buds ... hmmm (21/03/2018 - Jenny C.)

Hello Mrs. Lenko, the package has arrived today and I am flying again! Dubai Orchid is a beautiful fruity vanilla treat, blood related to Golden Sand and Golden Dust. I am very happy about it. Your deprived words and senses (8.3.2018 - Lenka S.)

Dear Mrs. Jano, thank you very much for fast delivery, nice gift and nice wishes. I have about 50 pieces of samples from you and today I found my absolute top. Perfume from which I am from the first application, as in ecstasy. Dubai Orchid, for me personally, the most beautiful fragrance. She absolutely engulfed me. It is delicate, sweetish, beautiful, exclusive and unrepeatable. Where do the world brands Dior, Prada, Chanell, Jill Sander go ... this is She, the one I've been looking for for years. One wants to bathe in it. Thank you for it with all my heart. Thank you again Beautiful day and lots of enthusiastic customers. (3/8/2018 - Martina P.)

And a big surprise for me is DUBAI ORCHID in the form of Valentine's Day gift, a vanilla gem. I already look for more, so I think that the next order will not wait long for myself :-) THANK YOU FOR ALL and I wish you wonderful days. (2/9/2018 - Lenka G.)

Have you tried one of our perfumes?
Let us know
how you like it!
Notify me when available?
You might also like