Rasasi Dhanal Oudh Ruwah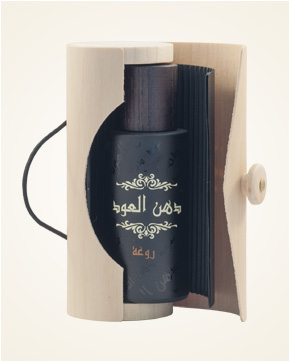 Rasasi Dhanal Oudh Ruwah
Eau de Parfum 40 ml
Out Of Stock
Eau de Parfum Sample 1 ml
Out Of Stock
Notify me when available?
Description
Rasasi novelty is a typical Arabic perfume, hiding in an interestingly designed wooden box.
As the name suggests, you will feel fully carrying oud oil, which is supported by a rich bouquet of rare trees. The soft and sensual ambergris intertwines with the subtlety of musk, to which is added a large-flowered rose with a shackling wave, again combined with the intense aroma of oud oil.
The fragrance is woody dry with all the nuances of oud flow that are associated with this Arabian fragrance treasure.

Customer Reviews (1)
Dhanal Oudh Ruwah edp is from a different keg than Bin Thani and Roayl Oud. Oud dominates and goes through the whole fragrance without wobble, but is supplemented with other ingredients. Oud is more sparkling and not dark at all thanks to the citrus tint, the woods are still full of sap, juicy and fresh grasses. The appearance of the roses is authentic, but lacks any sweetness, and the flourishing lilies glimmer. Finally, tincture resin prevails. (Jul 8 - Simona J.)

Have you tried one of our perfumes?
Let us know
how you like it!
Notify me when available?
You might also like