Afnan Dehn Al Oudh Abiyad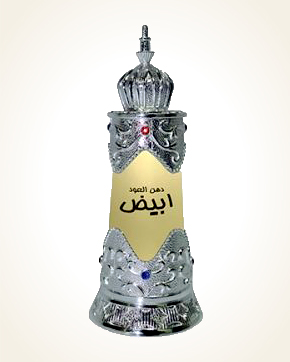 Afnan Dehn Al Oudh Abiyad
Concentrated Perfume Oil 20 ml
In Stock
Concentrated Perfume Oil Sample 0.5 ml
In Stock
Description
The fresh citrus, connected with the smell of cedar wood and a hint of the smell of the sea, will show its light spelliness.
In concentrated perfume in the form of oil is added vanilla and more musk. The aroma is not so fresh citrus, but is slightly polished.
As it unfolds, the delicate sweetness of vanilla diverts the fragrance away from the sparkling cold tinge of lime, into a soft fragrance, whose excess sweetness is restrained by mint and a spicy ginger tone. An earthy breath of vetiver's fragrance leads to a pleasant end with a little caraway.

Customer Reviews (3)
Hello, in the last order I ordered a sample of the perfume Afnan Dehn Al Oudh Abiyad .... I wanted to try out how the men's perfume will smell ... and I'm fascinated ... my 22 year old son tried it on himself ... he was skeptical , what I'm trying to do on him ... he came the next day and wanted me to smell it again ... he smelled the smell all day at work, he 's sensually gentle ... and he just came to see me wanting to order it for himself. ..so, you also have admirers for young men (11.05.2021 - Alica Č.)

I just picked up the perfume Dehn Al Oudh Abiyad .... is fantastic exactly to my liking ... ... thank you (26.03.2020 - Kveta H.)

Afnan Dehn Al Oudh Abiyad: When a warm blanket is needed. Last May days I missed Arabs. A ragged northerner and sore throat required warmth, a lot of warmth. The warmth it emanates from Arabian fragrances, one that can be bundled up and warmed up like a mountain sun. So I reached into the sample box again and this time I pulled out exactly what I needed on my first try. Shaggy warm blanket. And what a blanket! Dehn Al Oudh Abiyad is an Arabic perfume, more precisely perfume oil, surprisingly restrained in a number of noticeable ingredients and a remarkable effect it creates. Above all it is elegant and calm due to its limited color scheme. Confidently, not unkindly calm, he will not deny Arab origin. The moderation then makes the main contrast sound: the ingredients are dry and warm and the ice cold on the other side. A photo I had long ago saved when it came in handy captured the feeling exactly. Like wrapping yourself in a warm blanket in the sun, you have goose bumps with cold water droplets. The heat comes from the wood that has dried up until it turns into a sweet aroma of tanned leather with a touch of vanilla, and later chocolate dark leather, which is called Russian in perfumes. I write aroma, not odor, because oud is used here very subtly, in addition with neutral woody tones. By the proximity to the skin, the warmth trapped in the wood reaches the body. There, with musk and a bit of acridness, it gives the impression of a woolen blanket. Part of that pungency permeates through the blanket soaked in the heat of the Arab market, like ice needles and this collision of contrasts, that is bliss itself when hairs rise from it. If it weren't for the Arabian fragrance, I'd say it's a feeling of holding mojito with crushed ice and fresh mint while you're wrapped in a warm blanket. Oil intensity is moderate, so it is wearable to the office and remains a private bonus. Stamina lengthens. (3.6.2015 - Dzona Breakfast in Perfumery)

Have you tried one of our perfumes?
Let us know
how you like it!
You might also like