Surrati Deena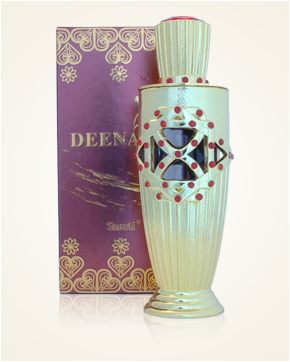 Surrati Deena
Concentrated Perfume Oil 12 ml
Out Of Stock
Concentrated Perfume Oil Sample 0.5 ml
In Stock
Description
Gourmet invitation to the fruit confectionery, to sit at the table with a vase full of narcotic flowers, you can enjoy the delicious ice cream ...
The milky cream bath is prepared for a bouquet of soft lotus flowers with a full, sweetly flowing magnolia, where the creamy ylang - ylang is also slightly swaying. The fruit embrace combines sweet grapes, juicy strawberries and ripe cherries with gourmet vanilla.
All this deliciously seductive sitting is with tones of wooden sandalwood and sensual musk

Customer Reviews (3)
Surrati Deena I really liked the smell of Surrati Ewaan, but I was discouraged by the price. Luckily I ordered Deen among the samples and it is younger sister Ewaan :-) exactly the same type of candy, I do not feel anything pungent or disturbing, perfect olfactory experience for ladies - bees :-) So my collection is in addition to the samples that I accumulate on the dressing table at a dizzying speed, grow by this sweet milk :-) Thank you dear ladies from Anabis. You are NO. 1 :-) (Sep 29, 2019 - Simona O.)

Deena addressed me as a sample and it was a clear choice for me. It is a fragrance that caresses the soul. My first impression was marshmallow. It really reminds me of my favorite childhood foam candies. Vanilla prevails, I have seen it right from the start. Gradually, tones of flowers are added, and finally only gently fruits. Flacon is removed on the bedside table and carries me into an oriental fairy tale. Interestingly, this perfume on a woman is more appreciated by men than by women themselves. (4.7.2017 - Miroslava OF)

Hello Mrs. Lenko, I put a drop of Deena on my hand this morning at Anabis and I still smell my wrist and enjoy the vanilla scent. The first impression is a ripe sweet yellow melon (although not in the description of the composition), which after a while changes musk with flowers and finally vanilla appears, holding and holding and holding for an incredibly long time. The finish of the scent is a bit like Golden Sand. Thank you for all the beautiful scents you bring. Have a nice rest of the day and a nice weekend. (15.7.2016 - Mirka P.)

Have you tried one of our perfumes?
Let us know
how you like it!
You might also like