Naseem Daliya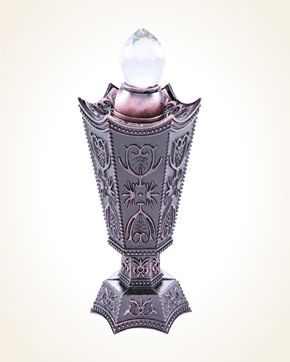 Naseem Daliya
Concentrated Perfume Oil 12 ml
In Stock
Concentrated Perfume Oil Sample 0.5 ml
In Stock
Description
Gourmet fragrance by Naseem is full of mysterious seduction and harmoniously composed flowers and woody tones hidden in a beautiful oriental flacon.
Accept the invitation for sweet citrus caress, touches of oriental spices, headed by vanilla and liquorice, which dissolves in the scent of rare resins. The advent of sweetly intoxicating oud oil and rare saffron is supported by the untamed appeal of chocolate.
We continue in gourmet tones with plum and lemon grass, which is immersed in a honey bath. The combination of rose and jasmine together with an earthy dry vetiver smooths too much sweetness into the heady woody sensuality of perfume.

Customer Reviews (14)
Naseem Daliya - unusual beautiful smell. Buy blindly based on reviews, I'm extremely satisfied. The bottle is also nice. Who knows what the name Daliya means that a female name? (9/15/2019 - Katarína E.)

Today I received from Vas Naseem Daliya I am enchanted, I will try another fragrance, thanks that you are here as the crowns will go to the other ♥ ️ ♥ ️ ♥ ️ (22/01/2019 - Anna G.)

Hello, Mrs. Lenka, such a highly anticipated package has arrived in perfect order. I'm excited about Daliya. The bottle is beautiful in the picture, but in fact much more beautiful. This is such a beautiful ornament that even if I miss the perfume, I keep the bottle forever. The very scent of beauty !!! On my skin it develops incredibly rich, a little bit for men, but that is why I ordered it for me that suited me the gentle odor, which is very sexy :-). (1/19/2018 - Ivana J.)

Hello, I want to thank you for the speed of delivery from GSL. Review on Daliya: is a beautiful fragrance that enchants and is very unusual. Thank you I wish you beautiful days. Yours (13/09/2016 - Alena.M)

Yesterday I left Mrs. Lenka and Jana with the smell of Naseem - Daliya. After reading the reviews I was very curious about the smell and I expected a heavier, sweeter smell. But the smell is really beautiful, aha, fresh, today I smelled and my colleagues at work said that smells the whole office :-) No matter what from Anabis, it is usually really a complete bomb. Thank you for being. Your already regular customer :-) (29.6.2016 - Lenka G.)

Daliya and choco musk-beautiful fragrance, full of chocolate, I mixed them on the body in a cluster ... today the gentleman went to my store and when I asked him - why do you go to me? -responsed - because you smell beautiful ... :)) well, I admit that if I was not married ... :-)))) and one more incident-some gentleman in the market yelled at me-haloo, lady, beautiful perfume , so I nodded him nicely smiled ... super zabráčka not only for men ... spinning after me and women and asking, what a beautiful smell of it, ... thanks, already knows about you half of the city ... Have a nice evening ... (21/06/2016 - Jana C.)

Daliya - absolutely divine and amazing ... :-) nobody can imagine what it does to my surroundings ... every perfume from you, once it is vanilla, second time raspberry, juicy fruit etc., colleagues are absolutely captivated, so , like me ... :) I will probably repeat again, but perfumes (oil) have no mistake ♥ (30.7.2015 - Jana C.)

Daliya. I was enchanted by the composition and the beautiful flacon. The ordered pattern of this beauty confirmed me that I just had to have it. The only drop of Daliya on her body is amazingly unfolded. For me it's a rose drowned in honey with a piece of citrus. Shrouded in an oak cloud with oriental spices. A totally divine fragrance that carries with me for hours. (7/21/2015 - Kateřina A.)

Well, perfumes from you are like a dream of a thousand and one nights. DALIYA - this perfume is a gem, it is absolutely beautiful, gentle and the bottle has no mistake beauty - a mysterious treasure. (Oct 18, 2014 - Veronika H.)

DALIYA - another Arab who got me on my knees. The wonderful combination of liquorice, sweet plum, lemon grass and precious woods will bring perfect intoxication. CPO is a very attractive aroma, sweetness is moderated by lemon grass. Daliya is a beautiful oriental, sleek and yet so attractive with excellent durability. (15/10/2014 - Radmila H.)

I read the reviews of your fragrances, one customer was excited about the fragrance of Daliya, I have to tell her the truth and this fragrance enchanted me, is amazing, soft, unobtrusive, just magical. (10/6/2014 - Hana V.)

Among the Arab perfumes I have a few favorites, currently absolutely unbeatable leads Daliya I will also have to order it in reserve. I have always been afraid of the oils, but such stamina and intensity has so far provided me with no perfume and that I have changed for 51 years. I can smell even at night from sleeping and it is not unpleasant at all, on the contrary. It is beautiful. Big thanks for you. (9/28/2014 - Jana H.)

Daliya is sweet at the beginning, pleasant but after a while she is very grounded and I feel that I am walking among green plants and feel their smell, the smell of freshly wet soil after earthy rain and somewhere in the background blooming oriental flowers. .)

Thank you very much for the absolutely "quick delivery" of perfumes. Wonderful perfume bottles. But for what I am very grateful are the samples of new fragrances, including DALIYA. I admit that according to the composition I would be afraid to order it without trying, none of the ingredients is just my cup of coffee, but what awaited me after applying on my wrist, I was absolutely breathtaking. A drop of perfume applied in the morning, smells and smells and smells and it is almost midnight. Beautiful unique charming scent sparkling expressive and yet gentle, I can not describe it, but I'm blown away. And considering the flacon, that's a fairy tale. I'm going to order .... I feel like I can't be without it. (9/18/2014 - Jana H.)

Have you tried one of our perfumes?
Let us know
how you like it!
You might also like