Al Rehab Classic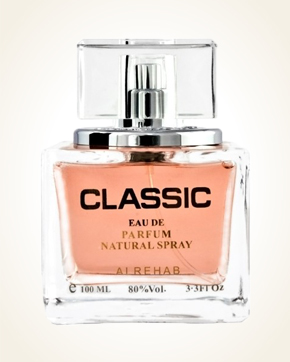 Al Rehab Classic
Eau de Parfum 100 ml
In Stock
Eau de Parfum Sample
In Stock
Description
Classic is a very popular fragrance that we now bring to you in Eau de Parfum. In this design, compared to a pocket pack in a roll-on oil, there is a little more tangerine and juicy orange, so the smell sounds lighter.
A lightly flowing citrus fragrance full of freshness turns its tones into creamy chords of sandalwood, complemented by the delicate beauty of delicate orange flowers.
Juicy oranges, sweet tangerines and sparkling icing of lemons are in a seductive game along with an echo of spicy spices dominated by rare saffron.
The gourmet aria continues with a delicious, tenderly wounded vanilla, complemented by bitter almonds with a seductive embrace of powdered musky musk.

Customer Reviews (8)
Wonderful scent...I just love its aroma, floral scents. I have it now... (27.06.2021 - Nesrin, Turkey)

Have a good day. The order came right and the next day. I thought I'd make another order with you soon, but the oil Al Rehab - Classic got me totally, Classic is a wonderful smell, it reminds me a bit of Louis Cardin - Sacred at the beginning, but they are also more fresh, fruit undertones. Beautiful fragrance, soon I will make another order for you, but probably more in EDP form and we already have a second candidate to order. I thank Mrs. Carolina for a personal message. Thanks for being, really thanks. (9/13/2019 - Pavla F.)

Hello, Classic Spray is gorgeous ... it's delicious, it's powdered velvet, beautifully folded and how it feels around. I have worn it since morning and now around noon I felt that I no longer felt how pleasant it was to hear it when my colleague came to my office and said that she smells already in the hallway, that she is tender and beautiful, what apparently it is :-) - ??? no Your Classic. Thank you again for your care for my inquisitive questions and thank you for the presents. I think that my colleague will succumb to the fragrance, perhaps first, as she said to the little one in the oil and then what I have newly sprayed on a pleasant combination with each other :-) (9/9/2018 - Míla T.)

Classic perfume gave me a little surprise - I was expecting a larger and almost identical version of CPO in the ball, but my nose does not feel that version there. It smells beautiful, it feels less sweet, lighter, more citrus and I miss it just the intoxication and intensity of CPO oil, which I got used to rubbing into the skin. But if I wrap the whole CPO variant and spray this perfume in my hair, it's a perfect combination, I can go anywhere and reap only praise. (12/07/2016 - Kateřina S.)

Classic, I've known roll-on for a couple of years, so I tried a spray. This is such a beauty, he goes so beautifully into the space, even if I myself do not feel it in the afternoon, so in the office everyone tells me that I smell beautiful. and a pearl - they say they know at work that I went there, it smells there and elevator also :-). For me it is a sweet citrus scent. Almonds, if you did not write them, I would hardly get to know, but yeah, like this when I know they are there, so I feel them too :-) and I send him another order, we want it here - thank you. A fragrant day and good luck (Apr 13, 2016 - Iva R.)

CLASSIC EdP - is a wonderful intense scent of sandalwood with orange blossoms, which is followed by almonds, musk with vanilla accompanied by citruses. Thank you for the wonderful perfumes I ordered and for the gifts I received from you.

Hello, I write my impressions of the perfumes I ordered. Classic is a beautiful, lighter perfume, smaller size, just right in your handbag. It reminds me of the smell of blooming trees in spring. I was walking with him yesterday, and since the sun was shining and it was unusually warm for December, I had the feeling that I could feel blooming trees ... but it was Classic. (12/27/2015 - Jana Š.)

... so I have to say that my choice yesterday was very good. I really like Classic and I would like to take one more, if possible. I really enjoy the vanilla and sandalwood, which is just fine, but still permeates the scent. I do not feel almonds there, but it is probably because I do not know the smell of almonds, only those dried to wine :-) (19.6.2015 - Dáša D.)

Have you tried one of our perfumes?
Let us know
how you like it!
You might also like