Al Rehab Classic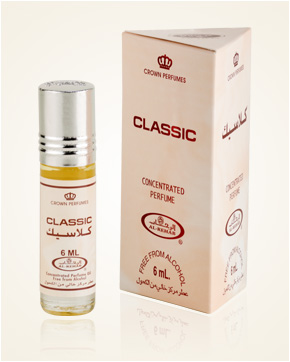 Al Rehab Classic
Concentrated Perfume Oil 6 ml
In Stock
Concentrated Perfume Oil Sample 0.5 ml
In Stock
Description
A pocket pack of oriental perfume, the big advantage of which is the small size (6 ml of perfume) so that it fits even the smallest handbag or pocket. In addition, perfume is very easy to apply using a ball in the bottle cap. So you can always have your favorite fragrance with you.
The fragrant scent of sandalwood with orange blossoms and a touch of saffron will surprise you with its intensity. Finally, citrus fruits, musk with vanilla and bitter almonds come to show their special beauty to smell you with this perfume for the whole day.

Customer Reviews (3)
Hello, thank you very much for your time and willingness ... I love Classic, although after the first test sample I thought that this is probably not for me, but after developing the fragrance I failed him .. and perhaps in all the bags I have Classic in roll on - and I will have to add EDP ... :-)

Al Rehab - Classic CPO 6 ml .. I ordered for rehearsal, again according to the composition and reviews blindly and certainly will go to the EDP version, this fragrance is again something so great, which I can not do without. This perfume is a beautiful combination of sandalwood, which beautifully unfolds orange flowers with citrus and a piece of vanilla, the mentioned pinch of saffron, which is not overcharging, but so acurate and again .. all in a beautiful fine musk cloud, in this fragrant whole I would like to bathe whole, it is a beautiful that could be sold per kilo: -) .... (May 27, 2016 - Irena Č.)

Classic - splendid! At first I felt very intense roasted almonds and citrus and I wasn't sure if this combination was nice to me. Gradually, as the smell decomposed, the original pervasiveness subsided and the other perfume ingredients sounded. Your perfumes are without exaggeration addictive. I have my best perfume from you, but I can't help but feel like trying all of them. These amazing, enchanting little ball bottles make me absolutely fascinated. Practical, hiding treasures that I would hardly find in classic perfumes. Thank you for the experience your fragrance offers. Thank you for the presents, which are not included in any package. (05/01/2016 - Lenka S.)

Have you tried one of our perfumes?
Let us know
how you like it!
You might also like