Al Rehab Cherry Flower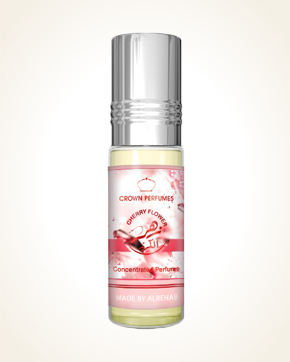 Al Rehab Cherry Flower
Concentrated Perfume Oil 6 ml
In Stock
Concentrated Perfume Oil Sample 0.5 ml
In Stock
Description
A pocket pack of oriental perfume, the big advantage of which is the small size (6 ml of perfume) so that it fits even the smallest handbag or pocket. In addition, perfume is very easy to apply using a ball in the bottle cap. So you can always have your favorite fragrance with you.
Favorite cherry caress, now also in larger packages.
As the name suggests, there are magnificent cherry blossoms in a direct concert performance. With other tones comes freesia, whose combination with the cherry is heady irresistible, adds musk and the whole is absolutely amazing.

Customer Reviews (5)
Cherry Flower - This is a warm concert of cherry blossoms. Freesias, I love their scent, I don't feel them so much here. But the softness of musk adds its score here. As a whole - a very successful delicate scent. (20/08/2021 - Rena K.)

Cherry flower. She was also praised by a fellow locksmith and I was surprised. Beautiful summer scent. Thank you, (20.08.2020 - Dominika J.)

Cherry flower - this is a very nice surprise for me! I got the perfume as a gift to buy and I'm excited, I didn't expect that much beautiful smell at all :-) First I feel something like cherries and almonds together, then flowers and after scenting, when added musk is the smell the best and smells a long time ! Moooooc thank you :-) (16/05/2018 - Žaneta B.)

Cherry Flower ... smells wonderfully of cherries, it is a wonderful smell, hooded cherries on one small tree, concert performance, but it is nicely tuned by musk, which will soften it all ... :) (14.2. 2017 - Jana C.)

Cherry Flower CPO 6 ml - another fragrance I could not resist because I love the smell of blooming cherries in spring and I have to write that this little inconspicuous perfume also did not disappoint me and after the test I immediately put it in a cosmetic bag and I have it with me now on vacation. on my travels and through the flowering orchards, I subtly adorned Cherry Flower and absorbed the scents from all directions. Perfume is absolutely amazing .. a huge amount of cherry blossoms on a gentle musky cloud and smells and smells and smells .. :-) Thank you for the splendor! Best regards (4.5.2016 - Irena Č.)

Have you tried one of our perfumes?
Let us know
how you like it!
You might also like