Nabeel Bold Woman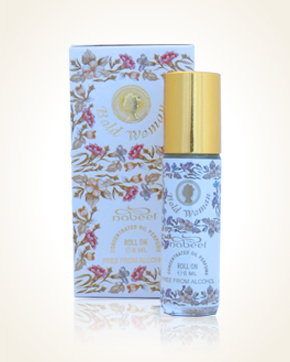 Nabeel Bold Woman
Concentrated Perfume Oil 6 ml
Out Of Stock
Concentrated Perfume Oil Sample 0.5 ml
Out Of Stock
Notify me when available?
Description
A pocket pack of oriental perfume, the big advantage of which is the small size (6 ml of perfume), so it fits in the smallest purse or pocket. In addition, perfume is very easy to apply using a ball in the bottle cap. So you can always have your favorite fragrance with you.
Sweetish intoxicating perfume Bold Woman is sensuality alone. The floral embrace combines the notes of precious orchids, full-flowered roses and whitish jasmine flowers melting into gourmet vanilla, combined with woody tones of cedar.
The velvet ambergris and the gentle dot - the sensual musk adds depth and softness.

Customer Reviews (1)
Hello Mrs. Lenko, by the way, the little fragrances constantly surprised me incredibly. Again, I just took in the number to try Nabeel - Bold Woman and she is so breathtaking aa directly unreal. I blew the whole bottle in a week and this morning I was wondering why it is empty :-) :-) The smell is beautiful vanilla flower very reminds me of luxury Versace Pour Femme, but Bold Woman because it CPO so it just smells just constantly. Even after showering, I still feel it around me. If I could in this fragrance I really would like to bathe all :-) So for me great thanks for bringing such wonderful fragrances. In the last order I ordered samples and also Deen. As I showed them to my friends immediately ordered two Deen :-) And you have the order in the shop :-) Best regards and wish you a nice day. (08/09/2016 - Lenka T.)

Have you tried one of our perfumes?
Let us know
how you like it!
Notify me when available?
You might also like