Abdul Samad Al Qurashi Black Stone Her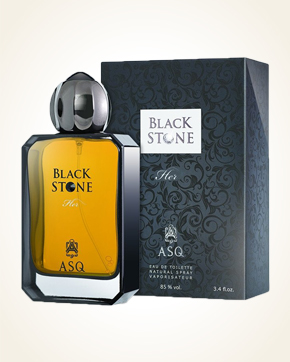 Abdul Samad Al Qurashi Black Stone Her
Eau de Parfum 100 ml
Out Of Stock
Eau de Parfum Sample 1 ml
In Stock
Description
Black Stone is a floral untamed passion, full of fruit seduction with a mysterious line in the Orient.
The sensual symphony begins in fruity chords dominated by forest blueberries, with subtly subtle nuances of fresh pears, complemented by juicy orange and plum.
The gourmet harmony of roasted almonds, vanilla pods and sugar loaves takes on the help of gently bitter real cocoa, which will end this deliciously sounding aria and provide space for flowers.
The heady charm of flower bouquets is carried in the opulent keys of magnolias, intense jasmine and sweet gardenias.
Now come into the scene with the keys of oriental dreaming, represented by herbal-spiced patchouli tones, to which a light-hearted oud essential oil is added, just like behind the curtain, to the light-hearted. It caresses and spells a bewitching echo, leaving the fruit-flowered key to be heard, which is the main direction of the whole fragrant composition.
The intensity of fruity juiciness, sweetness and floral games create a whole-engaging, very sensual and appealing perfume.

You might also like