Rasasi Bent Al Ezz Nabah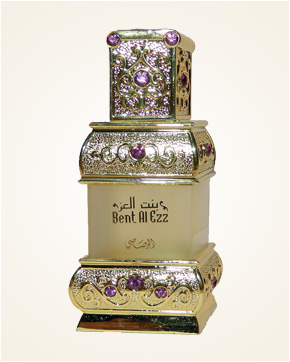 Rasasi Bent Al Ezz Nabah
Concentrated Perfume Oil 18 ml
Out Of Stock
Concentrated Perfume Oil Sample 0.5 ml
In Stock
Description
The gentle musk scent combined with sandalwood will draw you into a sweet and fruity composition.
Step into the softly laid bergamot key, letting in a intoxicating jasmine that peeks and clears the path of sweet peach seduction with the generous contribution of white chocolate. Other fruity tones of ripe and juicy pears, along with plum, settle in the vanilla intoxication at the end of the aroma.

Customer Reviews (12)
Bent Al Ezz Nabah.A beautiful fragrance I'm not on strong fragrances, but from Anabis are just great :-) of this fragrance I feel freshness. (22/08/2019 - Marie Š.)

Hello, today I got a package with Rasasi Bent Al Ezz Nabah, I'm completely shocked by the beautiful flacon. I already know the smell from the formula - also beautiful. Thank you (3.7.2019 - Monika Š.)

Hello Mrs. Lenko, I would like to ask you for info. I've been trying the RASASI - Bent Al Ezz Nabah formula all week. Every day I watch the pages of Anabis, what's new and I look at the bottle of oil. Perfume and perfume are absolutely úúúúžasné and every day I think tomorrow ... tomorrow ... tomorrow I order it. :-) And today? He disappeared from the menu. Apparently it was probably the last and is sold out. Or? Please still be on offer? Thank you Wishing you a beautiful day (27.1.2017 - Stáňa F.)

Good day to Anabis, first of all I want to thank you very much for the quick delivery (as always ... :-D) For my friend I ordered Benz Al Ezz Nabah - absolutely and hopelessly fell in love with him. After the first test, she said that her splintered toes of her splendor, and so I think that it begins to give birth to interest in Arabic perfumes and you are looming a new addict ... (16.9.2016 - Lenka S.)

Bent Al Ezz Nabah - another breathtaking achievement ... intoxicating magic of jasmine and musk, cuddly seductive juicy fruit, silky vanilla ... a light breath of scented sandalwood sticks ... A delightful delight for enjoyers. It cannot be missing in my collection ... (3.8.2016 - Lenka S.)

I think Bent Al Ezz Nabah is a candidate to buy into my collection: -) ............. I can't describe the smell exactly, but when I close my eyes it just smells ........ ..HOW TO THEN ............... (June 28, 2016 - Lenka T.)

Bent All Ezz Nabah it is a gem, a gem, a gift from heaven ... It can tune me into a relaxing wave and I enjoy every inhalation of the scent that surrounds me. (9/17/2015 - Jana Š.)

Bent Al Ezz Nabah cpo (Rasasi). Baskets of wild strawberries picked up in the midday sun. From overripe fruits dyed toes, sweet taste on the lips, far scented honeycomb, hot August air. Palms full of intoxicating scented raspberries and a journey home by the heat of a barely breathing dry forest. The conclusion of this beautiful cpo is in the spirit of a warm evening and iced coffee with rich creamy foam savored at frostless dusk. (08/03/2014 - Simona J.)

Rich fruit with silk musk. European wannabe fruit perfumes should be ashamed of the corner. Paradise Garden at dawn ... The first notes on me sound like a handful of crushed wild strawberries, even if they are not in the composition ... it conjures bergamot with tuberose and delicate jasmine flowers ... you want to bite and enjoy the ripeness of the fruit ... force and with its rays caress the juicy fruits of pears crackling with sweet juice. The pleasantly coordinated composition is rounded off by the smooth, warm scent of warm sandalwood with gentle touches of soft musk and a crystal cup filled with a good portion of honest creamy vanilla ice cream ... Delikatesa. (03/03/2013 - Renée H.)

Bent Al Ezz Nabah - I have already written that he is like Pierre Pearl's Wild Pear and I reaffirm this. I am happy to be able to spread a long smell of the bottle with such a wonderful aroma of sweet pear, vanilla and other ingredients. The fragrance holds excellent. And it is a beautiful fragrance. (09/08/2012 - Sylva F.)

Bent Al Ezz Nabah - Toques de secretos debajo del cielo nocturno… Touches of mystery under the night sky, brought by a clear breeze are… How many hearts have he seduced over the abyss? The night sorcerer and the virtuos of passion, dark jasmine, his sweet narcotics ... Touches of mystery under the night sky, brought by the clear breeze are… In the veil of the scent of jasmine you expect them,… motionless. And perhaps only your heartbeat is a messenger of mystery to the world and a traitor for eager desire. (Jul 24, 2012 - Dalia)

Bent Al Ezz Nabah plays his song with incredibly sweet tones of ripe citrus. Countless drops of their golden juice splashed around. They disappeared forever, but a few of them found at least a moment of salvation, and their glittering beadlets slowly drifted into the dark skin glistening with fragrant oil. Citrus is a thing of the past; it is a fleeting touch of pleasantness, whose duration changes its tone, and jasmine narcosis is next. A lazy sensual dance in which reason is lost in the whirl of imagination. Sweet, soft and dark jasmine… virtuoso de la pasion. Under the jasmine heart, which pulsates with tireless perseverance, the deep chords of sweet woody sound silently. A radiant warm woody species, over which a nearly unnoticeable stripe of smoke floats above it ... Who would not want to dream at least from time to time? Relive the moment a thousand times? So stop, after all, there is nothing easier, a moment, hand in hand with the imagination to go… (23/07/2012 - Dalia)

Have you tried one of our perfumes?
Let us know
how you like it!
You might also like