Al Rehab Bahrain Pearl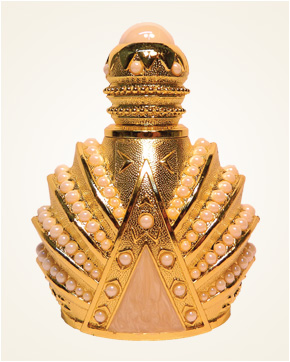 Al Rehab Bahrain Pearl
Concentrated Perfume Oil 20 ml
In Stock
Concentrated Perfume Oil Sample 0.5 ml
In Stock
Description
Bahrain Pearl CPO has won third place in the Oriental Perfume 2015 competition, which took place in autumn 2015 and in January 2016 on our website www.anabis.com and Facebook.
The captivating fragrance of flowers, headed by green jasmine and magnolia, complemented by the fresh, light aroma of ripe and juicy pear with black currant, enters the magic of daytime or evening seduction.
As the fragrance gradually settles on your skin, intense notes of freesias and peaches show up in their fully intoxicating fragrance. To illustrate the oriental perfume is with musk, a little caramel and sandalwood.
Somewhere in the background a slight hint of neroli appears. The perfume will open the intoxicating scent of flowers with very softly tinged fruit tones, with jasmine and peach growing more and more in the foreground.

Customer Reviews (9)
I ordered three samples of women's perfumes in Al Rehab Bahrain Pearl oil. The smell is wonderful, it changes when worn, lasting. I am a fan of expressive, durable and oriental fragrances, this one is perfect. At the earliest opportunity, I order full-size perfumes. I recommend. (12/10/2018 - Mariola, Poland)

Hello, oh, what are you doing to me? :-) I already know what a dependency is ... I haven't even "finished" a batch of samples sent a week ago and I'm already flying again. I actually order only according to your descriptions and reviews, as I read them, I feel the need to "taste" more and more ... At the same time, to my approaching logs, I give myself a large package of Bahrain Pearl - I am already a big girl ;-) Bahrain Pearl has enchanted me - it's a wonderful combination of flowers and warmth, the embodiment of femininity ... Beauty! And beware - for the first time in my life, a stranger asked me to say I smell beautiful ... That was Al Rehab Soft. So thank you and of course I buy ;-) Good day to Anabis. (11/06/2018 - Katka H.)

Hello, First of all I want to thank you for really quick order processing. The samples were icy due to the weather, so after unpacking I left them at room temperature for about 3 hours. So I know exactly what my first order will be in a larger package. I wish you a lot of success in your personal and professional life in the new year (29.12.2016 - Iveta S.)

Hello, today the shipment has arrived in the best order. Thank you very much for quick handling and delivery. Bahrain Pearl is a real pearl, brightened me all day and improved my mood. Beautiful fragrance. I'm glad I got it. Thank you very much. (11/26/2016 - Zuzana H.)

It is a luxurious fragrance. I am happy that I discovered these magical oils, I never felt anything more beautiful :-) this is another of my favorites. In the evening I applied a bit and all night until the morning I was wrapped in cotton :-) Thank you for being and I can thanks to you discover this new world of beautiful fragrances. Have a good time and have a lot of satisfied customers like me (15.6.2016 - Lenka G.)

My dear, actually my dear, has received a package of fragrances and gifts and surprises from you ... Thank you, thank you very much! I open the perfumes gradually so that I can enjoy longer, but I already have one open - Bahrain Pearl - and it's great! I will smell the best of all to celebrate my round birthday. And you have a permanent customer in the future. Good luck and above all be healthy !!! Warmly, (Mar 31, 2016 - Marie U.)

Bahrain Pearl impresses with its sweetly fresh combination for the first time. Everything flashes: fruits, greenery, citrus, flowers. Really very pleasant mixture, which after settling I perceive as a whiff of pearl-inlaid gold fan bringing a smooth velvet intoxication from a gently shining fruit-floral connection. Fresh green jasmine in duet with sweet delicate magnolia is complemented by thick nectar from ripe juicy peach. The delicate musk also contributes to the delicious harmony, thanks to which the fragrance is supple and powdered and decorates us as a shimmering dust. In my neighborhood Bahrain Pearl is received very positively, pleasing fragrance in a beautiful flacon. (7/18/2014 - Andrea Ž.)

Bahrain Pearl cpo works beautifully and long on my skin. Sweet and blooming magnolia dominates, with a slightly acidic orange and slightly jasmine. At this stage it is the most beautiful, springy, cheerful. Over time it settles into a slightly creamy form and the flowers give way to the sweet fruit. Hidden delight in a beautiful bottle. (02/03/2014 - Simona J.)

Bahrain Pearl - sweet floral nectar, which is served as a sweet dot in Arabic countries, so that guests will not forget their hosts. So I perceive Bahrain Pearl. I am happy that I took fragrant oil, this time I have it exposed, because the golden bottle does not let the light and decorate my niche in the library and Bahrain Pearl is so niche smell :-) (8.10.2012 - Sylva F.)

Have you tried one of our perfumes?
Let us know
how you like it!
You might also like