Al Rehab Bahrain Pearl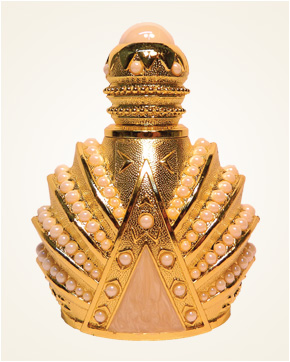 Al Rehab Bahrain Pearl
Eau de Parfum 50 ml
In Stock
Eau de Parfum Sample 1 ml
In Stock
Description
The captivating fragrance of flowers, headed by green jasmine and magnolia, complemented by the fresh, light aroma of ripe and juicy pear with black currant, enters the magic of daytime or evening seduction.
As the fragrance gradually settles on your skin, intense notes of freesias and peaches show up in their fully intoxicating fragrance. To illustrate the oriental perfume is with musk, a little caramel and sandalwood.
Somewhere in the background a slight hint of neroli appears. The perfume will open the intoxicating scent of flowers with very softly tinged fruit tones, with jasmine and peach growing more and more in the foreground.

Customer Reviews (6)
Hello, it's three years since my daughter ROETA bought me (shame it's not on offer) I was enchanted by oriental fragrances. I don't buy other perfumes anymore, today I got a package and I was kidnapped by Al Rehab Bahrain Pearl it's a bomb .... (11/11/2018 - Ilona S.)

Hello, all the wonderful workers to Anabis. Thank you very much for the beautiful package, which was a great pleasure to a grim day. Samples are still awaiting testing, but Bahrain Pearl is an elixir that has so many luxurious pages, is so enjoyable connected, dense fruit, is twisted into flowers. There is really everything, flowers, fruits, trees ... pleasantly coordinated, there is nothing about the first rung, each ingredient fits delicately into the second. And great bonuses are first-class fragrance and a beautiful flacon. Thank you also for a beautiful gift Red Rose, I will write about it next time. Sincerely, (22.10.2017 - Andrea B.)

Well - Bahrain pearl-edp, in one word splendor. Endurance on the skin and on clothing is endless. This is a repair gem. (03/10/2017 - Zdena B.)

Bahrain Pearl Edp. Really masterfully blended floral fruit mix. Significant. In the beginning I found it sweeter. When the floral and fruity sweetness culminates, the corners of sandalwood stick out. Excellent stamina on skin, even longer on clothes. (16/09/2014 - Martina M.)

Bahrain Pearl in the form of perfume water is also a wonderful and in the winter months a more practical option. (3/17/2014 - Pavlína V.)

Luxurious rich fruity aroma, summer dream in oriental palace ... (2.3.2014 - Renée H.)

Have you tried one of our perfumes?
Let us know
how you like it!
You might also like