Al Haramain Badar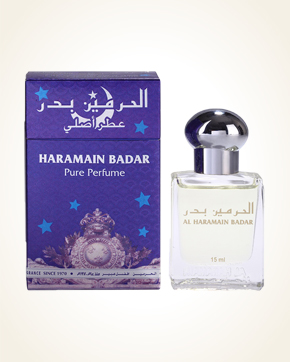 Al Haramain Badar
Concentrated Perfume Oil 15 ml
In Stock
Concentrated Perfume Oil Sample 0.5 ml
In Stock
Description
Pocket package of oriental perfume (15 ml CPO) in a bottle with a ball for easy application.
Unique, beautiful, charming, it all comes to mind with the first turn of the ball on your wrist. Softly winding musk fragrance with a trace of sandalwood and intense vanilla gives room for the emergence of a very beautiful lily of the valley with jasmine. Roses just peep a little to support this whole chord.

Customer Reviews (1)
After trying this pattern, I moved to the night lake, the stars and the moon were shining in the sky. From a distance, it smelled of a wonderfully cool scent of the crystal clear water, which glitters beautifully in the night light and gentle breeze. I felt so clean, fresh and calm. (Aug 13, 2014 Radmila H.)

Have you tried one of our perfumes?
Let us know
how you like it!
You might also like