Hamidi Oud Azraq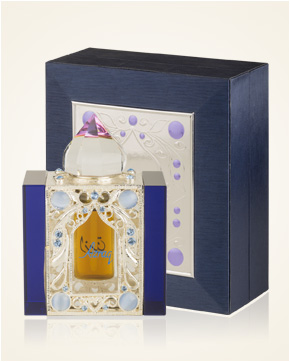 Hamidi Oud Azraq
Concentrated Perfume Oil 15 ml
In Stock
Concentrated Perfume Oil Sample 0.5 ml
In Stock
Description
Orientally scented touches of thousands and one story, hidden in a fabulously beautiful perfume bottle in a new fragrance by Hamidi Oud.
Azraq - "blue" opens its concert in woody tones, which pamper the softness of velvety ambergris. The floral composition will be presented in the main chords of rose and light teasing jasmine in conjunction with oud oil from Indonesia and India.
Oriental spices, along with honeycombs, will show us a warm wave in which a few fruity tones will submerge. The grand finale begins with a gourmet vanilla accompanied by a barely perceptible smoke of smoldering precious woods. Delightfully extending echoes of sandalwood and mysterious incense end this composition.

Customer Reviews (1)
Azraq - oh, it's beauty! I packed a friend's birthday gift box and waited eagerly to try so I could smell it. He hasn't spoken yet, but I'm impressed by the refinement and the incredible beauty of this perfume. I can not imagine wearing it yet, maybe even into this wonderful, captivating fragrance ripen, but I would love my friend so much ... Perfume is wonderfully honey, incense here adds a mystical touch and oud already mentioned refinement. Opět krása !!! (08/19/2016 - Lenka S.)

Have you tried one of our perfumes?
Let us know
how you like it!
You might also like