Naseem Azhar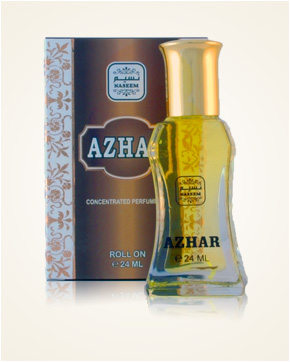 Naseem Azhar
Concentrated Perfume Oil 24 ml
In Stock
Concentrated Perfume Oil Sample 0.5 ml
In Stock
Description
The gentle flower cloud attracting tiny orange and cherry blossoms, coupled with creamy ylang - ylang, stretches into juicy notes of sweetly ripe citrus.
The fruity-sounding, delicate scent of Bulgarian roses blends in with a woody line, to which is added vanilla gourmet seduction and the sensuality of a fluffy musk.

Customer Reviews (4)
Naseem Azhar is the scent of the Orient, lightness with a veil of blooming flowers and a shade of vanilla. The way I go, I stay there. I no longer feel the smell, but the surroundings respond very positively. I am glad that this composition of fragrances makes me special. I was sad to find out that she wasn't on the menu, but now that she came up again, I'm sure to buy. Thank you and wish everyone success from Anabis (6.2.2019 - Zuzana Š.)

Azhar - Heaven in a blossoming cherry grove. A gust of rose still softens Ylang-ylang. I am not able to absorb any more, because I feel sweetness and softness, beyond the horizon, where the sun sets ..... A beautiful veil of fragrance. I know it has to spread a lot around me, because I have already received a compliment that the wonderful smell is all around me as I pass. I am happy because they are unable to identify what I smell, it only attracts the attention of my surroundings and is said to be like a fragrant Aura. I wish everyone from Anabis beautiful and successful days. Thanks to you, satisfied (20.3.2018 - Rena K.)

Today I got a sample of this beautiful fragrance, I definitely order the whole package. I still have my nose at my wrist and I can't tear it off. I have nothing so beautiful in my fragrance collection where Dior and Chanel are digging. This is a really fabulous and highly addictive fragrance. Thank you very much for this formula, thanks to which I looked into the sky. Luxury!!! (2/28/2018 - Helena K.)

AZHAR - another darling after AMAL and SOFT, beautiful, delicate with floral-citrus aroma with vanilla, where the rose is surrounded by rare woods and musk dancing on a cloud of fluffy foam. Fascinating. Charming fragrance. (05/01/2016 - Milena P.)

Have you tried one of our perfumes?
Let us know
how you like it!
You might also like