Al Alwani Autar Ward Al Taifi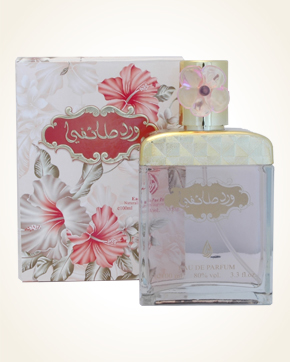 Al Alwani Autar Ward Al Taifi
Eau de Parfum 100 ml
Out Of Stock
Eau de Parfum Sample 1 ml
Out Of Stock
Notify me when available?
Description
The fragrant grandeur, the explosion of fragrant softness, as her highness, the queen of flowers, the rose, is represented here by the beautiful rose - the rose of Taif, in all its elegance and seductiveness.
Apply a few splashes of perfume - and embark on a fragrant journey to the heart of the rose. Take a walk through the sharply growing petals, perhaps with thorns, then exhale and ... the rose will be smoothed as if velvety and creamy. It is held in this position the longest.
For lovers of roses, Autar Ward Al Taifi will be a pleasant cloud of fragrant tenderness and femininity at the same time.

Customer Reviews (6)
Autar Ward Al Taifi - with roses we have a strange and uncompromising relationship. Either we sit down and it's love or not, no maybe, maybe a little. Here I was rather curious about the smell in proportion to the price, which seemed to me very low. Buying blind and ... it worked again. Yes, compared to other oriental fragrances, this is much finer and more subtle, but lasting and very interestingly evolving. I literally watched the birth and fall of Rosa paradisi. While in the garden of roses by the fence in the south are already opening the first roses, on the northern side is only bursting their green petals. In the course of the day, all flowers, full and saturated, open to the sun. They are not intoxicating, they remain tenderly fragile, pink and silent. In the evening comes a light rain, then Autar Ward Al Taifi is refreshing and slightly cool. (12/13/2016 - Simona J.)

Hello, as I predicted Mrs. Jana last time, I can not resist the smell of rose, which I combined with the musk Royal Musk from Surrati, which created a delightful fragrance. Unfortunately musk is not yet in stock, so I'll wait. Autar Ward Al Taifi I order. Have a nice time and look forward to seeing you (15.8.2016 - Helena P.)

Beautiful day, I was not delivered a package, but a fragrant gem in the form of a beautiful perfume ......., a beautiful scent of roses that will carry into the world of the queen of flowers. I'm addicted and smelled everything I could the next day. Thank you for having the opportunity to get to know Arabic perfumes and I remain your customer .... next order ready. Have a wonderful day. (01/07/2016 - Ivana P.)

Autar Ward Al Taifi is a beautiful fragrance, in my life I would not say that I will be so excited about rose, because I have tried several fragrances, but none of me caught up like this. The first scent is really strong, but in 2-3 minutes it took my breath away. Nádhernáááá. I didn't marry her yesterday to let it go through my head, but after an hour I knew I couldn't resist, so my next trip would be for this smell :-) Thank you, thank you, thank you. (Jun 22, 2016 - Lenka G.)

Mrs. Lenko have a nice day and many thanks for the perfumes. The ruze in the new perfume is ooravdu perfection itself. It literally hits the black. Ruze and ruze ... Autar Ward al Taifi. Really - with the knowledge of Anabis, the world has changed. I smell and the world has finally changed. Knowing Anabis perfume I am happy and really wholeheartedly thank you for that for us imported Arabs. (21/06/2016 - Jana Š.)

Autar Ward Al Taifi - now I got the package to work, that's such a strength, it's like breaking the red petals of that big rose, between my fingers, and now it's radiant, it's hoo-vigorously intense, sparky ... we're all around scented - the rose is disarming ... it's like bathing in roses. Beautiful, beautiful, beautiful - and the price :-) absolutely great, sending another order :-) Thank you for the nuts in the teddy, nice days and a lot of satisfied clients like us here !!! (6/21/2016 - Hana C.)

Have you tried one of our perfumes?
Let us know
how you like it!
Notify me when available?
You might also like