Ajmal Aurum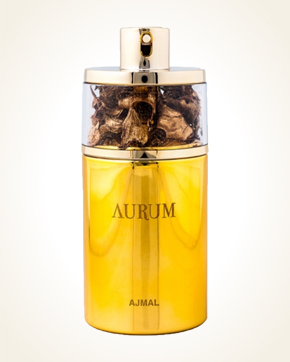 Ajmal Aurum
Eau de Parfum 75 ml
In Stock
Eau de Parfum Sample 1 ml
In Stock
Description
Aurum, or gold, is presented in a full gold flacon and offers us an exclusive, extraordinarily intoxicating yet gently flowing fragrance that speaks the language of luxury.
A smooth introduction gives us a silky, musky tone of musk, backed by fresh lemon, sweet-sounding raspberry and tender orange flowers.
You will get a completely intoxicating hug with the opulent gardenia and jasmine. Golden magic continues on the waves of precious amber with gourmet vanilla.
The depth with light touches of the Orient will be stretched out by a bed of velvety honey ambergris, which is permeated with heat reflecting the sweet notes of precious woods.
Perfume tells us a story full of sparkling, like a summer sky lit by the warm rays of the sun, which fall in golden reflections on you, as well as a shower of this sinfully fragrant perfume.

Customer Reviews (4)
Aurum - the content of the bottle perfectly corresponds to the title ... Gold fascinates mankind, what the world is the world ... Women coveted him, men killed for him ... Aurum is fascinating, is evil, is luxurious! After the first smell I thought very nice, but I do not have to. But then Ambra, vanilla and mystical amber entered the scene with her own grace, and I reached for the formula again so that I could drown in the beauty! Wonderful, what to add more? Perhaps just, words just isn't enough ... It's really crazy !!! One order sent and I urgently need Aurum in both versions and another four perfumes that will not let me sleep !!! (5/10/2018 - Lenka S.)

Liquid gold ... Absolutely luxurious. Arabic elegance of European style. Raspberries with white flowers of orange, jasmine and gardenia, accompanied by velvety ambergris and delicate musk with a slight trace of vanilla. Very feminine, charming and irresistible fragrance ... Liquefied luxury in a magical flask, corresponding to the name ... Aurum. (21/12/2012 - Renée H.)

Aurum is totally bewildered by the senses. Flowers or plants like "nablendované" as it is with Amouage flower gems, but nicer. Aurum is a wonderful blend of orange flowers, vanilla, gardenia, mint and other ingredients and is even nicer and has a deeper depth than Ciel woman by Amouage !!!! (14/06/2012 - Sylva F.)

The glittering golden flacon caught me as soon as I walked in. His fragrance is as unusual as many that I have from you. I'm starting to have a dilemma in the morning - so much scent, so many treasures, and one is closer to me than the other ... All the while I drove away to Ahbab CPO, then you strapped me to Durat al Bahrain and love at first is Dareen. Now, of course, after the olfactory battle with Aurum, I am lost - captured ... As the masters in the Orient do, their perfumes are more than fragrances .... it's a normal addiction, I have to sleep with the perfumes! (May 21, 2012 - Jitka N.)

Have you tried one of our perfumes?
Let us know
how you like it!
You might also like