Ajmal Aurum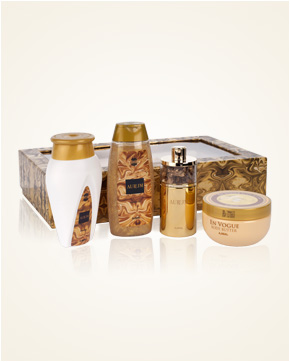 Notify me when available?
Description
Aurum, or gold, is presented in an all-gold bottle and offers us a strangely intoxicating and at the same time gently flowing scent that speaks the language of luxury. In this exclusively folded cartridge you will find Eau de Parfum 75 ml, shimmering Shower Gel 200 ml, creamy, body butter - Body Butter 200 g and fragrant Powder 100 g.
The smooth and silky tone of musk is supported by lemon, raspberry and orange blossoms. You get a very light hug with the help of gardenia and jasmine. The golden magic continues on the waves of rare amber with vanilla.
The perfume tells us a story full of sparkles, it is like the summer sky illuminated by the warm rays of the sun, which fall on you in golden reflections, as well as a spray of this intoxicatingly fragrant perfume.

Customer Reviews (7)
I must say that as I use Aurum powder, I got used to it, it feels really nice and I won't let it happen. It's my favorite antiperspirant. I do not sweat, I am so nice all day and dry and fragrant. For me, it's the discovery of the year. (5/20/2014 - Andrea Ž.)

I have already written about the powder, Alena mentioned the body butter, so there is still a shower gel from this overall amazing set of body cosmetics. Just looking at the bottle of the shower is a delight, the metallic glow of a dense gel with thousands of shimmering bits invites you to spot on the skin. Here it creates a fine film with glitter, little is needed and a rich foam with a delicate perfume. The delicate fragrance of "Gold" is drunk into the skin and after the evening shower joyfully welcomes our olfactory cells. Applying this cosmetic gradually is like putting on a fine silk dress with a rich skirt, where each petticoat layer adds inconspicuous strength and beauty to create a perfect whole. Then we just need to finish off with two scents of perfume and we are fragrant for the whole day, surrounded by an irresistibly seductive cloud of female attraction. (March 28, 2014 - Andrea Ž.)

The second fragrance, or a beautiful cassette, was Aurum. I already had this fragrance from you, (but long ago scented) so I didn't hesitate to order in this set. Body cream is amazing and long lasting smell, I tried powder as a deodorant, as Andrea writes, and it is good and fragrant ... :-) By fragrance consists of several options, it is superbly layered and ... has: -) Aurum is a luxury fragrance. (3/25/2014 - Alena S.)

... the powder from this set has no mistake, it is very pleasant and even smells enough, I can feel it going into space. I use instead of a solid antiperspirant and I am extremely satisfied. (3/20/2014 - Andrea Ž.)

Liquid gold ... Absolutely luxurious. Arabic elegance of European style. Raspberries with white flowers of orange, jasmine and gardenia, accompanied by velvety ambergris and delicate musk with a slight trace of vanilla. Very feminine, charming and irresistible fragrance ... Liquefied luxury in a magical flask, corresponding to the name ... Aurum. (21/12/2012 - Renée H.)

Aurum is totally bewildered by the senses. Flowers or plants like "nablendované" as it is with Amouage flower gems, but nicer. Aurum is a wonderful blend of orange flowers, vanilla, gardenia, mint and other ingredients and is even nicer and has a deeper depth than Ciel woman by Amouage !!!! (14/06/2012 - Sylva F.)

The glittering golden flacon caught me as soon as I walked in. His fragrance is as unusual as many that I have from you. I'm starting to have a dilemma in the morning - so much scent, so many treasures, and one is closer to me than the other ... All the while I drove away to Ahbab CPO, then you strapped me to Durat al Bahrain and love at first is Dareen. Now, of course, after the olfactory battle with Aurum, I am lost - captured ... As the masters in the Orient do, their perfumes are more than fragrances .... it's a normal addiction, I have to sleep with the perfumes! (May 21, 2012 - Jitka N.)

Have you tried one of our perfumes?
Let us know
how you like it!
Notify me when available?
You might also like