Surrati Attar Dua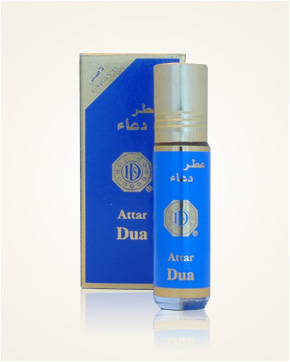 Surrati Attar Dua
Concentrated Perfume Oil 8 ml
Out Of Stock
Concentrated Perfume Oil Sample 0.5 ml
Out Of Stock
Notify me when available?
Description
Oriental perfume bag. Its advantage is its small size (8 ml of perfume oil) - so it fits in a small handbag. In addition, perfume is very easy to apply using a ball in the bottle cap. So you can always have your favorite fragrance with you.
Dua Al Jannah is a cuddly sweet, fruity oriental perfume. You will feel the taste of fully ripe fruit, dominated by apricots, peaches, strawberries and exotic litchi with pineapple and mango. This whole cocktail is backed by thick-spreading honey, gourmet vanilla and chocolate. From the tones of the Orient, the softness of the amber with the mysterious oud oil comes to us.

Customer Reviews (5)
Have a nice day in Anabis and give everybody Mrs. Jane and Mrs. Lenka. Well, you caught me in a trap :)) As soon as I openly packed with ordered vunickami, so I flew my head, what I will soon order..chjoo :))) Attar Dua, so it is a "pecka". This is such a beautiful sweet, sexy and attractive smell I was looking for. He has great success with everyone, especially with men. Beautifully combed ambergris with honey, which fine-tuned the vanilla. Perfume has a kind of intrinsic, appealing depth that can not be achieved ... soak up the smell ... but she will not allow me, which I like. It is really beautiful coquette and the next order I put it in the basket in the container. Beautiful spring to all, lots of success and happy customers and customers :) (26/04/2018 - Daniela S.)

I do not know why, perhaps because it is lilacs time, I also felt him from this perfume.Or it smell of peach and apricot flowers? again something else. (4/21/2017 - Lenka D.)

Surrati - Attar Dua smells lovely cuddly, I could not finish, it still made me smell and smell on my wrist, yummy ... :-))) and then cool cuddly ... thanks ... :-) I wish you very happy people ... :) (Aug 13, 2016 - Jana C.)

Attar Dua - oriental fruit perfume full of juicy peaches, apricots, strawberries mixed with gourmet vanilla, chocolate dipped in honey. I have a Du Al from Al Alwani at home and it is almost the same charming cuddly smell. Beautiful and, besides, a great holder. Thank you (29.6.2016 - Milena P.)

Attar Dua-one of the novelties that I could not resist with regard to the composition and which certainly did not disappoint me .. the first veil of this fragrance reminded me of my childhood when we jumped at the pilgrimage stand and sucked the scent of cotton candy and fruit jelly :-) this perfume also wants its time and space, within a short while the sweetness is embellished with a honey, a little vanilla and soft ambergris together with oudík all rounded into a pleasant pamlsku.Jak I did not have sweet fragrances, so now I come to taste. Sweet Arabs are just different than the mainstream ones. (21/06/2016 - Irena Č.)

Have you tried one of our perfumes?
Let us know
how you like it!
Notify me when available?
You might also like