Asgharali Nebras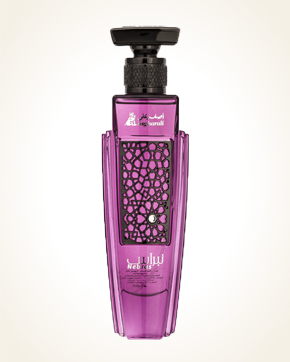 Asgharali Nebras
Eau de Parfum 100 ml
In Stock
Eau de Parfum Sample 1 ml
In Stock
Description
An irresistibly interesting introduction to the gorgeous Nebras perfume, it enchants green violet leaves in conjunction with ripe peaches. The leaves show intense foliage, freshness of the leaves and twigs, with which the creamy caress of the fruit blends, making the perfume with the first drop very attractive.
The floral composition is opened by a richly blooming, white-blooming jasmine flower bed, dense like a fluffy carpet, to which a delicate beauty, almost shyly fragrant, delicate petals of peonies, bends.
Woods in their softly seductive wave will highlight the rich smoothness of sandalwood in a harmonious duo with honey velvet amber.
The aroma is romantically feminine, sensual and charming.

Customer Reviews (1)
I have a problem with fruity fragrances: since Nina Ricci stopped making the juicy powdered Deci Del, this kind of fragrance has not attracted me much. It is also due to their popularity and producers who spew "fruit trees" and "fresh fragrances" one after another. I thought I'd have it like this forever, but ... there shouldn't be "Arabs" and I wouldn't have that curious nose :-). So… what is Asgharali Nebras? In short - juicy, delicious, cheerful and also unpredictable. The first three properties are assured by a well-blended blend of flowers and fruits: no artificial syrup, but beautifully ripe blackberries, raspberries, strawberries and perhaps currants and fresh roses, peony, freesia and jasmine (the freshest as jasmine can be). This stage lasts several hours and then comes a surprise. When you realize that you voluntarily sniff a flower-fruit cocktail into unconsciousness, warm ingredients will emerge from it, softening it and supporting it so that you can enjoy the pleasure with full consciousness - now in an ambr-honey hug with a drop of vanilla and dark chocolate. Nebras is one of my favorite surprises from the perfume world; to the extent that I decided to give fruit fragrances a chance again. And finally I finally stopped testing for Deci Dele :-) (8.9.2019 - Petra P.)

Have you tried one of our perfumes?
Let us know
how you like it!
You might also like