Armaf Club De Nuit Women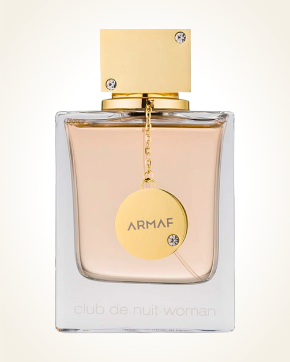 Armaf Club De Nuit Women
Eau de Parfum 105 ml
Out Of Stock
Eau de Parfum Sample 1 ml
In Stock
Notify me when available?
Description
The sensual, floral-fruity fragrance of Club De Nuit Women opens with an explosion of fruit, led by lemon, creamy peach, spicy lychee and sweetly juicy orange, sprinkled with oriental cardamom.
Bitter, citrus caress of grapefruit and bergamot, in harmony with the floral salt of large-flowered roses, supported by gently sweet geranium and intense jasmine.
The elegant, timeless and very attractive scent of Club De Nuit Women ends with deeper accords, in which earthy touches of herbal patchouli appear with a cool note of vetiver, which is touched by the shimmer of musky vanilla dreaminess.
Club De Nuit Women perfume by Armaf, belonging to the Sterling perfume house, is a fragrance inspired by Coco Mademoiselle.

Notify me when available?
You might also like