Ard Al Zaafaran Pure Musk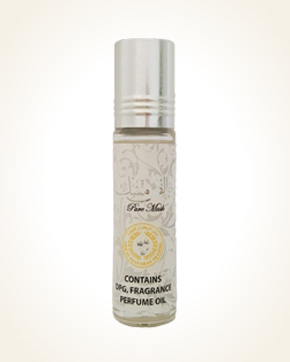 Ard Al Zaafaran Pure Musk
Concentrated Perfume Oil 10 ml
In Stock
Concentrated Perfume Oil Sample 0.5 ml
In Stock
Description
Another musky touch that is so popular comes with the pocket fragrance Pure Musk.
Enter chords full of tenderly seductive musk, which combines its tenderness with creamy ylang - ylang, velvety roses and a few shavings of delicious coconut.
The smell attracts with the powdery and purity that bears on the musky musk throughout its duration.

Customer Reviews (5)
Pure musk oil. The coconut didn't play there for me, but after being applied to the skin, it's the best ingredient they used there. Not much. Gentle. Really feel the roses. And cleanliness. Vona is fresh and sexy. Thank you (26.08.2020 - Dominika J.)

Ard Al Zaafaran Pure Musk - it's a fine-skinned powder, with coconut shavings, so far I'm in anticipation of what it turns out to be. (2/19/2019 - Rena K.)

With ordered samples I took from you musk ARD AL ZAAFARAN PURE MUSK yesterday, which excited me and my son (he has so far criticized my commonly used toilets). My son rubbed her wrist and ran to the floor below to her grandmother to smell it :) Oil perfumes really excited me, I will go to my sister at the weekend and test. I am very glad that I came across you, it is a beautiful and welcome change from the usual European fragrances. Have a nice day of health (19.2.2019 - Eva P.)

I cordially greet Mr. Lenko and the whole fragrant Anabis :-) and thank you very much for the package that arrived at lightning speed. Well, how else ... again how ecstatic ... splendor splendor splendid splendor ... Thank you very much for the fragrant gifts .. Ard Al Zaafaran Pure Musk - again beautiful pure tinker musk beauty ... is so tender and delicate that she I delete it all over my hands and not just the pulse points ... and yet I'm not overpaid .. really beautiful musk ... and once again thank you very much .. :-) (12/02/2019 - Romana V.)

Pure Musk - fluffy as a ballerina's tulle skirt, graceful as the movement of her arms, mysterious as her dreamy look ... a musky dream you won't want to stop dreaming ... at least I don't want to! I just want to be pampered and carried away ... by calling away, calling from somewhere deep down ... mysterious, beautiful, tender and sinful ... (5.2.2019 - Lenka S.)

Have you tried one of our perfumes?
Let us know
how you like it!
You might also like