Ard Al Zaafaran Dirham Gold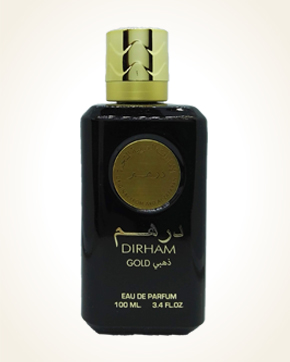 Ard Al Zaafaran Dirham Gold
Eau de Parfum 100 ml
In Stock
Eau de Parfum Sample 1 ml
In Stock
Description
Dirham perfumes are scents that have a similar base in oriental woods. Dirham Gold also has gourmet tones of fruit and vanilla, while Dirham Oud is a more oud aroma.
Oriental concert Dirham Gold is opened by tones of sandalwood with deep-sounding oud oil that blends with gentle jasmine and touches of roses. Fruits enter the flower arrangement, with the main chords of fresh orange, delicious pineapple and sweet mandarins.
To the seductive line is added a gourmet, creamy vanilla with a few tones of bitter bergamot, and shades of oud oil appear again.
In the final parade, the shades of velvety tones of roses with an earthy vetiver and behind the curtain of hidden, warm smoky bourbon tones succeed.

You might also like