Ard Al Zaafaran Hareem Al Sultan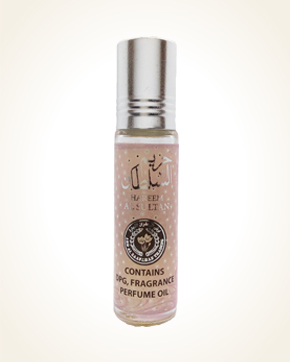 Ard Al Zaafaran Hareem Al Sultan
Concentrated Perfume Oil 10 ml
In Stock
Concentrated Perfume Oil Sample 0.5 ml
In Stock
Description
Red apples with crunchy echoes of sweet juiciness open a gourmet line to which dark chocolate and citrus bergamot are added.
Herbal, spicy touches give the patchouli aroma, which in a moment is replaced by a floral caress with a delicious vanilla bathed in clouds of musky musk.
A pocket pack of oriental perfume, the big advantage of which is the small size (10 ml of perfume) so that it fits even in the smallest purse or pocket. In addition, perfume is very easy to apply using a ball in the bottle cap. So you can always have your favorite fragrance with you.

Customer Reviews (1)
Greetings to Mrs. Lenko and Mrs. Jano :-) and thank you very much for the package that I picked up late because of illness today. I am still lying, but I am eagerly and eagerly unpacking fragrances and gradually rubbing myself with a blissful expression .... and again in my element .... ;-) Firstly, thank you very much for the handwritten message, it's so nice and it will please: -) ... and secondly, thank you for the Golden Sand gifts (gentle beautiful affectionate vanilla ... I wrote last time how beautifully it smells..and I gave it to my mother because she loves vanilla very much ..) and also thank you for the gift Afnan Modest Deux - beautiful half musk and half vanilla tenderness, where pure musk cold alternates with hot vanilla .... CPO Ard Al Zaafaran Hareem Al Sultan forms with a hint of a light powder ... that's how I perceive it somehow .. and throughout my development still makes me smell ... I can't help but all your perfumes are taaak beautifully magical and to diverse ... and incredibly addictive ... just such magical addictive drugs, but beware! - harmless! on the contrary: thriving in good humor - when every smell raises our soul to joyful heights and our olfactory cells are experiencing an unearthly pleasure ..... Again, I must repeat: thank you for importing such treasures for us !!! (3/20/2019 - Romana V.)

Have you tried one of our perfumes?
Let us know
how you like it!
You might also like