Arabian Oud Miss Arabian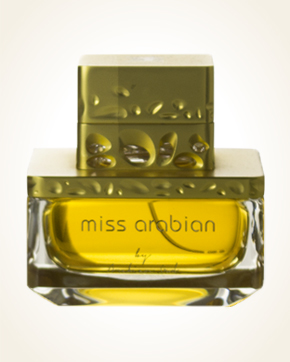 Arabian Oud Miss Arabian
Eau de Parfum 100 ml
In Stock
Eau de Parfum Sample 1 ml
Out Of Stock
Description
The tender, floral concert played in the main chords of the Bulgarian rose with fruit reflections is bound by the endless softness of the magical transformations of the innocence of the white musk.
The gentle bitter-sweet caramel nuances lend a gourmet line to the fragrance. Caramel is transformed by the pulsating heat of your skin into a deliciously sounding, sweetish lure that combines in a velvet aria with sandalwood.
The enchantment of ease with the interconnection of individual ingredients is escalated to sinful heights, where irritating sensuality sounds.

Customer Reviews (2)
Miss Arabian - posh "voracious" powder - I want and want and want :-D I look forward to fully dive into his waves and enjoy the test to the fullest and not just by air at work ... (27/11/2018 - Andrea Ž .)

Miss Arabian is absolutely exclusive, luxury perfume. Love of the first scent. If men can truly and boundlessly love? This perfume had to be created by a man boundlessly and passionately in love with a very special woman. The fragrance is both soft and intense, with both sensuality and tenderness. I can imagine wearing it anywhere and all year long. It is so intoxicating, smooth and rounded. I can't even say how wonderful it is !!! (5/12/2018 - Lenka S.)

Have you tried one of our perfumes?
Let us know
how you like it!
You might also like