Arabian Oud Aseel Special Edition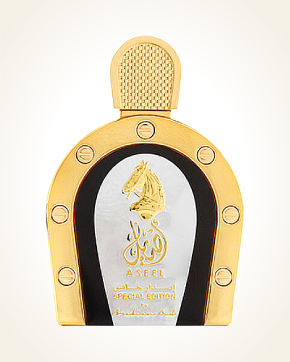 Arabian Oud Aseel Special Edition
Eau de Parfum 110 ml
In Stock
Eau de Parfum Sample 1 ml
In Stock
Description
Luxurious, very heavy bottle in gold, silver and black, once again hides one of the uniquely composed fragrances with the name - Aseel Special Edition, which the master perfumers from Arabian Oud produced for special occasions in a limited edition.
This fragrant gem is opened by orange blossoms with a very sweet tone, up to candy-bearing mulberries, which they aerate with a light shimmer as if drops of water shattered into a fresh gust of air.
Another gourmet line is emerging, the emphasis of which is on creamy-whipped vanilla with a large dose of dense, sinfully gourmet caramel, with which a cloud of flowers resonates.
The flowers are represented mainly in velvety soft roses, which are due to the sensual touches of fluffy musk, which creates a slight sway from the sweet tones that otherwise dominate the perfume.
The magnificent touch of the fragrant pyramid will be ensured by touches of honey-covered, sovereign chambers in a dance solo with herbaceous earthy patchouli.

You might also like