Arabian Oud Al Fareed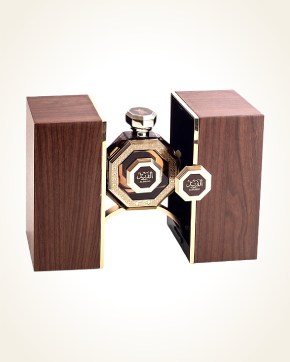 Arabian Oud Al Fareed
Eau de Parfum 100 ml
Out Of Stock
Eau de Parfum Sample 1 ml
In Stock
Notify me when available?
Description
The luxury box hides the perfume gem Al Fareed by Arabian Oud, the design of which is supposed to represent a cut diamond, and the name Al-Fareed can be translated as "the unique one" or unrivaled... So let yourself be enchanted by this first impression and now — enter the fragrance a composition that tells an engaging poem about contrasts and harmony, born in the heart of the Orient.
With the first drop comes spicy pink pepper, dancing on the citrus-bitter echoes of bergamot. This is followed by the sweet melody of geranium, carrying soft pink nuances in the beats of a dreamy waltz.
We continue into the depths of the velvety embrace of honey amber, where the fragility of violet pollen combines with the earthy herbiness of patchouli.
Enchanting darkness, a scent full of contrasts — this is oud essential oil, the blast of which is surrounded and tempered by wisps of fluffy musk that resemble the gentle touches of an evening breeze. The finale of this symphony is completed by a gourmand note of vanilla, which spreads over the skin like a sweetly warming ray of the morning sun.
Al Fareed is not only a perfume, but above all an experience — an experience that will remind you of what it is like to be simultaneously seduced and captivated, lost and found in the endless dance of oriental mysteries.

Notify me when available?
You might also like